Polar, renowned for its cutting-edge sports technology, has officially introduced the highly awaited Polar Vantage V2, the second instalment in its Vantage series of multi-sport GPS watches. In this comprehensive review, we will closely examine this sports watch, delving into its features, design, performance, and enhancements compared to its predecessor.
In the realm of sports and fitness, wearable technology has become an indispensable component of every athlete's journey. These devices, ranging from tracking performance metrics to monitoring health and recovery, play a pivotal role in optimising training regimens and achieving peak performance levels. The Polar Vantage V2 is a prominent example of such a device designed to cater to the requirements of both professional athletes and fitness enthusiasts. In this extensive review, we will thoroughly explore the Polar Vantage V2's features and capabilities, assessing whether it lives up to the expectations and determining if it represents a worthwhile investment.
Introduction to the Polar Vantage V2
The Polar Vantage V2 is positioned as the flagship device in Polar's multi-sport lineup. It builds upon the success of its predecessor, the original Polar Vantage V, and aims to address some of the shortcomings of the earlier model. Designed to cater to triathletes, runners, cyclists, and athletes from various disciplines, the Polar Vantage V2 offers a comprehensive set of features that are tailored to meet the demands of high-performance training.
Save $10 with coupon (limited sizes/colours)
Polar Vantage V2 – Premium Multisport Smartwatch with GPS
See Buying Options
Polar Vantage V2 Specifications
| | |
| --- | --- |
| Feature | Description |
| Brand | POLAR |
| Model Name | Vantage V2 |
| Screen Size | 1.2 Inches |
| Special Features | – Built-in GPS- Route Tracking- Barometer- Wrist Pushes- Recovery Tests- Mobile Notifications- 24/7 Activity Record- Calories- Night Recovery- Sleep Record- Music Controls- Workout Load- Swimming Metrics- Wrist Running Power- Colour Touch Screen |
| Connectivity Technology | GPS |
| Sport | Sport Technology |
| Included Components | – Polar Vantage V2- Charging cable |
| Battery Life | Up to 40 hours (Training mode with GPS active) |
| | Up to 20 hours (Training mode with GPS and wrist-based heart rate) |
| Mounting Type | Wrist Mount |
| Dimensions | – Size: 46 x 46 x 13 mm- Weight: 45 g |
| Display | – Always-on colour touch display with Gorilla Glass- Size: 1.2 Inch- Resolution: 240 x 240 pixels |
| Battery | – 230 mAh Li-pol battery |
| GPS | – Integrated GPS- Assisted GPS for fast fix times |
| Connectivity | Bluetooth Low EnergyCustom USB cable for charging and data synchronisation |
| Water Resistance | Waterproof (WR50) |
| Compatibility | Compatible with Polar BLE heart rate sensors |
| Suggested Users | Unisex |
| Color Options | Orange |
| Size Options | Medium/Large (38-44) |
| Manufacturer | Polar |
| Part Number | 90070738 |
| Model Year | 2018 |
| Style | Vantage V |
Polar Vantage V2 Pricing
The Polar Vantage V2 comes with a price tag of $299.97. While this is in line with many high-end triathlon watches, it still feels relatively expensive, especially for users who may not fully utilise all of its advanced features. The market could benefit from more options in the sub-$300 range for triathlon enthusiasts on a budget.
Save $10 with coupon (limited sizes/colours)
Polar Vantage V2 – Premium Multisport Smartwatch with GPS
See Buying Options
Polar Vantage V2 Design and Build
The Polar Vantage V2 maintains the familiar five-button configuration and touchscreen interface of its predecessor. However, one notable change is the shift from a stainless steel case to a lightweight aluminium construction, significantly reducing the watch's weight while promising improved GPS performance.
The first impression of the Polar Vantage V2 is its premium design. Crafted from aluminium, the watch exudes a sense of durability and sophistication. It's available in six different colours, allowing users to choose a style that suits their preferences. The model reviewed here features an attractive grey and lime green colour scheme, which garnered compliments from users.
One notable improvement in the Vantage V2 is the redesigned strap mechanism. While users of the original Vantage V found it challenging to remove the strap, Polar has addressed this issue by introducing a user-friendly pin mechanism for easier strap replacement. The included band is comfortable, and it comes in two sizes, catering to different wrist sizes.
In terms of dimensions, the Polar Vantage V2 boasts a 47-millimetre diameter and is approximately 13 millimetres thick. Despite its size, it feels compact and comfortable thanks to its rounded edges and bezel design.
Polar Vantage V2 Display and User Interface
The watch features a 1.2-inch transflective display, which offers excellent readability in direct sunlight. However, it relies on a backlight for visibility in low-light conditions. The backlight is gesture-based, turning on when you raise your wrist, but it can also be activated by pressing a dedicated button.
While the display is functional, some users may desire more customization options for watch faces. Polar provides a limited selection of digital and analog watch faces to choose from, with limited room for personalization.
Polar Vantage V2 Battery Life
Polar advertises the Vantage V2 as capable of up to 40 hours of GPS battery life with high accuracy settings. By adjusting power-saving settings, users can extend this to up to 100 hours. While reducing accuracy slightly, this option ensures ample runtime for long adventures.

Battery life is a crucial consideration for any sports watch. The Polar Vantage V2 offers up to one week of battery life in smartwatch or standby mode, which is an improvement compared to its predecessor, the Vantage V. For activities, the watch provides up to 40 hours of GPS tracking with wrist-based heart rate monitoring. This extended battery life makes it suitable for ultra-marathons and endurance events.
Polar Vantage V2 Fitness Features
While the Polar Vantage V2 offers a plethora of fitness features, not all of them may appeal to every user. The watch provides extensive data on recovery, training load, and even suggests workouts based on your recent activities, thanks to the Fit Spark guide. These features can be invaluable for dedicated athletes looking to fine-tune their training routines. However, for some users, they might be seen as excessive or unnecessary.
One area where the watch falls short is in its lap swimming mode. For swimmers who engage in a variety of strokes and drills, the Vantage V2's lap tracking capabilities may leave much to be desired. Unlike some competitors, it lacks a comprehensive algorithm to differentiate between different strokes, affecting the accuracy of distance measurements. This is an area where Polar could learn from brands like Garmin and Form Swim Goggles, which offer more advanced swim tracking solutions.
Polar Vantage V2 Heart Rate Sensing
The Vantage V2 boasts the Polar Precision Prime heart rate sensor, an upgrade from the original model. This new sensor uses a different algorithm and firing pattern, promising more accurate heart rate readings. Throughout various activities, including running, cycling, and swimming, the heart rate sensor demonstrated consistent and reliable performance.
You Might Also Like:
Polar Vantage V2 New Software Features
Polar has introduced several software enhancements to the Vantage V2. Notable additions include new watch faces, performance and recovery tests, and weekly training summaries. The weekly summary watch face provides a colour-coded overview of your training zones, training time, distance, calories burned, and heart rate data, making it easy to monitor your progress at a glance.
Polar Vantage V2 Performance Tests
The Vantage V2 comes equipped with new performance tests, including a leg recovery test, cycling test, and running test. The leg recovery test evaluates leg strength and recovery by measuring jump height. For cyclists, the cycling test determines functional threshold power (FTP), which can help with training and performance optimization. The running test assesses your running fitness, providing valuable data like VO2 max.
Polar Vantage V2 Fuel Wise
An interesting feature introduced with the V2 is Fuel Wise, which allows users to create personalised fueling strategies for their activities. You can set reminders for carbohydrate intake and hydration, adapting them based on the activity's duration and intensity. This feature can help maintain optimal energy levels during workouts.
Polar Vantage V2 GPS Performance
The Vantage V2 demonstrates strong GPS performance, accurately tracking distance and elevation gain during activities. It handles signal interruptions, such as tunnels, well and quickly reacquires GPS data upon exiting. These results indicate the effectiveness of the aluminium housing in enhancing GPS performance.
Polar Vantage V2 Running Power
A noteworthy feature is the watch's ability to measure running power directly from the wrist, eliminating the need for additional sensors. While the actual power number may vary among devices, the Vantage V2 provides consistent trends in running power, offering valuable insights for runners.
Polar Vantage V2 Swim Tracking
The watch excels in swim tracking, featuring automatic lap detection and stroke recognition. It delivers reliable data even in challenging aquatic environments.
Polar Vantage V2 External Sensor Support
One area where Polar could improve is external sensor support. The Vantage V2 lacks compatibility with ANT+ sensors, limiting its usefulness for indoor cycling when using a smart trainer that transmits only via Bluetooth. Adding ANT+ support would enhance its compatibility with a wider range of fitness equipment.
Polar Vantage V2 Sensors and Connectivity
At the heart of the Polar Vantage V2 is the Precision Prime 2.0 heart rate sensor, located on the watch's back. This sensor provides accurate heart rate monitoring, even during intense workouts. The watch also supports external devices such as the Stride foot pod and chest-based heart rate sensors via Bluetooth connectivity.
One standout feature of the Vantage V2 is its impressive water resistance, allowing it to be submerged to a depth of 100 metres. This makes it suitable for swimming and various water-based activities.
Training and Performance Metrics
The Polar Vantage V2 excels in providing a wide range of training tools and performance metrics. Here are some of the key features:
1. Running Power Metric
One of the highlights of the Vantage V2 is its ability to measure running power directly from the wrist, eliminating the need for additional sensors or foot pods. Running power is a valuable metric for assessing running efficiency and effort, providing athletes with insights into their performance.
2. Training Load and Recovery Pro
The watch offers comprehensive training load analysis, separating cardio load from muscle load and perceived load. This information helps athletes understand how their training volume impacts their body. The Recovery Pro feature evaluates recovery levels and provides insights into sleep patterns, helping users avoid overtraining and injuries.
3. FuelWise Nutrition Reminders
For endurance athletes, the FuelWise feature offers nutrition reminders during long activities, such as marathons or Ironman events. Users can set up manual carb intervals or rely on the watch's smart recommendations based on calorie and carb consumption.
4. Fitness Tests
The Vantage V2 includes fitness tests for both running and cycling. These tests assess users' fitness levels and can be a valuable tool for tracking progress over time.
5. Orthostatic Test and Leg Recovery Test
The watch introduces the Orthostatic Test, which gauges how well an athlete's body has recovered from the previous activity. Additionally, the Leg Recovery Test measures leg recovery by analysing jumping performance. While the precise utility of these tests may vary, they offer additional data for athletes to consider.
Polar Vantage V2 Navigation and GPS
One area where the Polar Vantage V2 could see improvement is in its navigation features. The watch offers basic navigation capabilities, including GPX file imports and commute navigation. However, the user interface for navigation is somewhat limited, providing only a simplified map view. The absence of features like zooming and panning may leave some users wanting more.
Polar Vantage V2 Polar Flow Ecosystem
A significant advantage of the Polar Vantage V2 is its integration with the Polar Flow ecosystem. Polar Flow includes a user-friendly smartphone app and a web environment that offers detailed insights into training and performance data. Users can analyse their runs, view training load, and track their progress over time.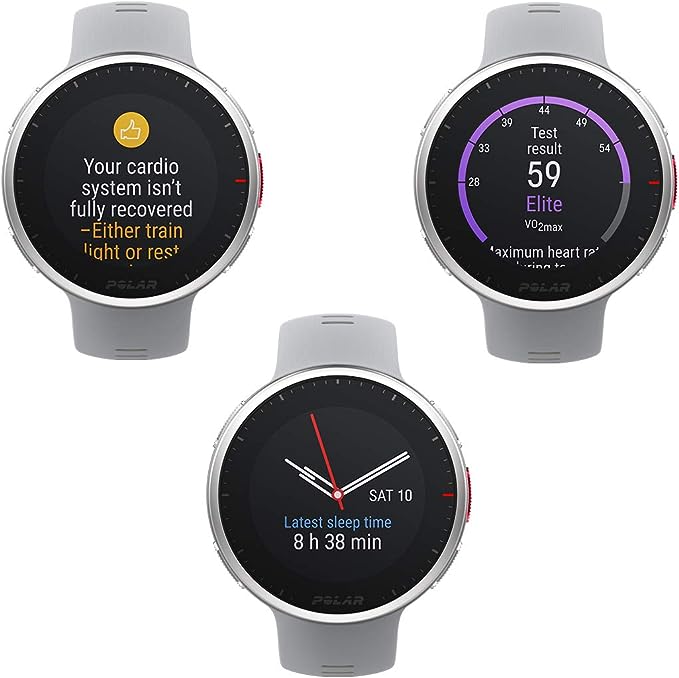 Polar Vantage V2 Pros & Cons
Pros:
Advanced performance testing (leg recovery, cycling FTP, running tests)
Accurate and consistent heart rate measurements with Precision Prime sensor
Personalised fueling strategies with Fuel Wise feature
Strong GPS performance, even in challenging conditions
Excellent swim tracking with automatic lap detection and stroke recognition
Running power measurement from the wrist
Long battery life (up to 40 hours of GPS, extendable to 100 hours)
Weekly training summary on watch face
Sleek and lightweight aluminium design
Cons:
Lack of support for ANT+ sensors
Premium price point
Complex for beginners
Basic smartphone notification capabilities
Learning curve to maximise features
Limited integration with third-party apps
Conclusion: Is the Polar Vantage V2 Worth It?

In conclusion, the Polar Vantage V2 offers a compelling package of features and capabilities designed to cater to serious athletes and fitness enthusiasts. It combines a premium design, accurate heart rate monitoring, running power metrics, and comprehensive training analysis tools. The integration with the Polar Flow ecosystem enhances the overall experience for users looking to track and optimise their performance.
However, it's essential to consider the watch's limitations, such as the somewhat limited navigation features and occasional heart rate spikes. The absence of ANT+ sensor support could be a limiting factor for some users. Additionally, the price point of $299.97 places it in a competitive segment, where users may also explore options from other leading brands.
Ultimately, the decision to invest in the Polar Vantage V2 will depend on individual preferences, training goals, and the importance of specific features. Athletes seeking a well-rounded sports watch with a strong focus on training analytics may find the Vantage V2 to be a valuable addition to their gear. Nevertheless, prospective buyers should weigh the pros and cons to determine if it aligns with their specific needs and requirements.
FAQs
What is the Battery life of the Polar Vantage 2?
The battery life of the Polar Vantage V2 can vary depending on how you use the watch and which features are activated. Here are the approximate battery life estimates for different scenarios:
Training Mode with GPS and Wrist-Based Heart Rate: Up to 40 hours
GPS-only Mode (with heart rate monitoring disabled): Up to 100 hours
Smartwatch Mode (with basic activity tracking and notifications): Up to 7 days
Standby/Watch Mode (timekeeping only, no GPS or activity tracking): Up to 30 days
Please note that actual battery life may vary based on factors such as GPS usage, heart rate monitoring, screen brightness, and other settings. If you want to maximise battery life, you can adjust settings like GPS frequency and screen timeout to conserve power during your activities.
Is the Polar Vantage 2 waterproof?
Yes, the Polar Vantage V2 is waterproof and designed to withstand water-related activities. It has a water resistance rating of WR50, which means it can be submerged in water up to a depth of 50 metres (approximately 164 feet). This level of water resistance makes the watch suitable for swimming and other water-based sports.
You can confidently wear the Polar Vantage V2 while swimming in pools, open water, or during rainy conditions without worrying about water damage. However, it's important to note that while the watch is water-resistant, it's not intended for diving or activities involving high water pressure, such as scuba diving.
Always ensure that the watch is properly sealed and that any charging ports or buttons are secure before exposing it to water to maintain its water resistance.
Does it keep accurate time?
Yes, the Polar Vantage V2, like most modern sports and smartwatches, is designed to keep accurate time. It utilises precise quartz movement technology to maintain accurate timekeeping. The watch syncs with the GPS signal and other time sources to ensure it displays the correct time, and it can also automatically adjust for time zones when connected to a compatible smartphone.
Accuracy in timekeeping is typically a standard feature in digital watches, and the Polar Vantage V2 is no exception. You can rely on it to provide accurate time for your daily activities, workouts, and other time-related functions. Just make sure to keep the watch's software up to date to ensure accurate time synchronisation.
Is it comfortable to wear?
The comfort of wearing the Polar Vantage V2 can vary from person to person, as it depends on individual preferences and wrist sizes. However, here are some factors to consider regarding its comfort:
Lightweight Design: The Polar Vantage V2 is relatively lightweight, weighing in at just 52 grams. This lightweight construction can contribute to a comfortable wearing experience, even during extended periods.
Strap Options: The watch comes with two strap size options—small/medium and medium/large—to accommodate different wrist sizes. Choosing the correct strap size for your wrist can enhance comfort.
Material: The watch features an aluminium case, which is durable and can feel comfortable on the wrist. The strap material is designed for comfort and flexibility.
Ergonomic Design: The watch has a design that incorporates rounded edges and a reasonably slim profile, which can help it sit comfortably on the wrist.
Ultimately, whether the Polar Vantage V2 feels comfortable to wear depends on your personal preferences and how well you adjust the strap to fit your wrist. Some users may find it comfortable for everyday wear, while others may prefer to wear it primarily during workouts. It's a good idea to try the watch on and wear it for a while to assess its comfort for your specific needs.
Is it Lightweight ?
Yes, the Polar Vantage V2 is considered lightweight for a sports and fitness-focused smartwatch. It weighs approximately 52 grams (1.83 ounces), which is relatively light compared to some other smartwatches in the market. This lightweight design makes it comfortable to wear during various physical activities, including running, cycling, and swimming, without feeling bulky or cumbersome on your wrist.
The combination of its lightweight build and comfortable strap design aims to provide users with a pleasant and unobtrusive experience while tracking their workouts and daily activities.