Discover the smart functionality with the best tough smart watches of 2023 for both iPhone and Android users. If you're the kind of person who doesn't just stroll around the neighborhood but loves to conquer mountains or dive into the deep blue, you need a smartwatch that can keep up. Enter the world of tough smart watches, where durability meets functionality. Today, let's take a look at some of the coolest options in 2023 that can handle the bumps, splashes, and all the action your adventurous heart desires. In this article, we're diving into the world of tough smart watches.
Best Tough Smart Watches 2023
Amazfit T-Rex Pro, KOSPET, meoonley Military Rugged Smartwatch, and Garmin Instinct were crowned the best tough smart watches in 2023. Even though there are many other options available, none can beat them in terms of toughness. So let's explore them one by one: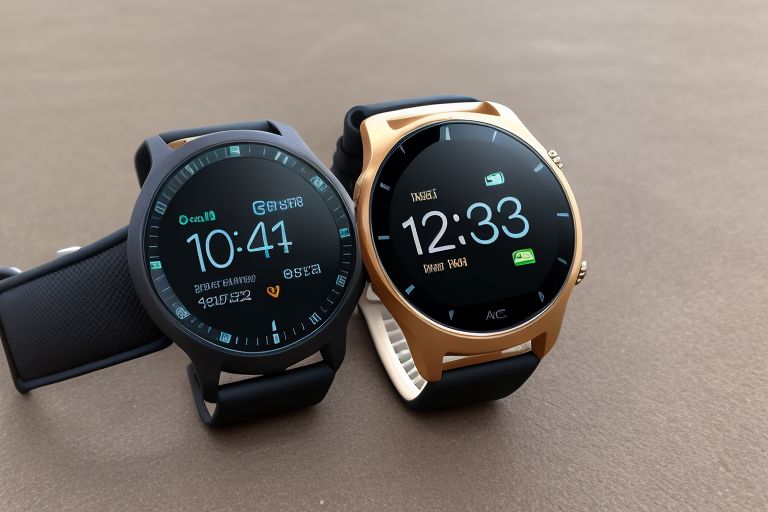 Amazfit T-Rex Pro Smart Watch for Men
Kicking off our list is the Amazfit T-Rex Pro. Imagine a smartwatch with 15 Military Standard certifications – that's like giving it a superhero suit! It can handle all your fitness routines with over 100 sports modes. Plus, it's water-resistant, so no need to worry if you forget to take it off before jumping in the pool. And get this – it can keep going for 18 days on a single charge. That's longer than your vacation!
KOSPET Smart Watch
Let's talk about the KOSPET Smart Watch. Picture this: a watch with a screen that's bright and clear like your TV at home. It comes with two bands – one for when you want to rock that metal look and another for when you're feeling sporty. But here's the kicker – the battery lasts for 60 days! Yes, you read that right. You can almost forget where you put your charger.
meoonley Military Rugged Smartwatch for Men
For those who want a smartwatch that looks like it could survive a superhero battle, check out the meoonley Military Rugged Smartwatch. It's tough enough to handle the outdoors and can even take calls. Need to check your fitness progress? No problem – it's got a pedometer and tracks your blood oxygen levels. It's like having a personal trainer on your wrist.
Garmin Instinct
About the Garmin Instinct. It's not just tough; it's like the James Bond of smartwatches. GPS? Check. Heart rate monitor? Check. A compass that tells you where north is? Double-check. And it looks so sleek in graphite that you might just forget it's a tough outdoor watch. It's the perfect mix of brains and brawn.
Amazfit T-Rex 2 Smart Watch for Men
Last but not least, we have the Amazfit T-Rex 2. This one has dual-band and can find your location with six satellites – it's like having your own little GPS team on your wrist. The battery life? A whopping 24 days! That's longer than some vacations. And if you're the type to explore in freezing temperatures, this watch can handle it like a champ.
Top 5 Inexpensive Tough Smart Watches
Carbinox Titan Pro Smart Watch
Meet the Carbinox Titan Pro Smart Watch – your sturdy fitness companion! Tracking your heart rate and sports activities, it's built with IP69K waterproofing. Seamless syncing with your Android or iOS phone makes it a perfect choice. Tough choices made easy!
Njord Gear Indestructible Smartwatch
Designed for both men and women, this smartwatch goes beyond the basics, featuring the ability to answer and make calls directly from the watch. With heart rate monitoring, blood pressure, and oxygen monitors, all presented in a vibrant orange hue, it combines style with functionality, catering to the needs of those seeking an affordable and robust wearable.
Military Smart Watch for Men by EIGIIS
For outdoor enthusiasts seeking an affordable tactical companion, the Military Smart Watch for Men by EIGIIS ticks all the boxes. This outdoor waterproof smartwatch not only facilitates Bluetooth dial calls but also incorporates a speaker for enhanced communication. With a 1.3" HD touch screen and compatibility with both iPhone and Samsung, it strikes a balance between ruggedness and versatility.
Military Smart Watch for Men with LED Flashlight:
Adding a tactical edge to affordability, the Military Smart Watch for Men with LED Flashlight is a rugged waterproof device with a focus on functionality. Boasting over 100 sports modes, a comprehensive fitness tracker with heart rate and sleep monitoring, and the practicality of an LED flashlight, it caters to the demands of those in search of a durable yet budget-friendly smartwatch.
Amazpro Smart Watch for Men
Rounding off our list is the Amazpro Smart Watch for Men, a formidable 1.96 inches HD outdoor tactical sports rugged smartwatch. Featuring Bluetooth call capabilities, over 100 sports modes, and an IP67 waterproof rating, it strikes a balance between affordability and advanced features. Compatible with both iPhone and Android, it stands as a testament to the accessibility of cutting-edge technology in the realm of tough smart watches.
Best Tough Smart watches for iPhone, Android and Military Grade 
These durable companions are designed to withstand the challenges of everyday life, making them an ideal choice for those who lead active and adventurous lifestyles.
Best Tough Smart Watches for iPhone
Let's kick things off with a look at the best tough smart watches for iPhone users. These rugged devices not only sync seamlessly with your iPhone but also bring durability to the forefront. From robust build quality to advanced features, we'll explore the top picks that combine toughness with Apple compatibility. When you need a tough smartwatch that works smoothly with your iPhone, look for durability and compatibility. Here are some great picks:
A strong choice with a robust build and powerful watchOS. Water-resistant and packed with fitness features, it's a reliable iPhone companion.
Tough and solar-powered, perfect for outdoor enthusiasts. Syncs effortlessly with your iPhone, providing detailed fitness stats and navigation on your wrist.
Casio G-Shock Move GBD-H1000
Blending G-Shock toughness with smartwatch functionality. Ideal for the active lifestyle, offering advanced fitness tracking and smooth connection with your iPhone.
Best Tough Smart Watches for Android
Next up, we'll shift our focus to the Android side of things. Android users, fear not there are plenty of tough smart watches tailored just for you. Android users! Tough smart watches that sync seamlessly with your devices are plenty. Check these out:
Versatile and durable, running on Wear OS. Perfect for Android devices, offering resilience for everyday challenges.
Stylish and built to endure, this Wear OS-compatible smartwatch effortlessly connects with your Android device.
Rugged yet sophisticated, powered by Wear OS. Dual-layer display for extended battery life and seamless integration with Android.
Military-Grade Tough Smart watches
For the ultimate in durability and functionality, military-grade tough smart watches rise to the challenge:
Suunto's rugged outdoor watch built to military standards. Specialized features for fishing, hunting, and hiking make it ideal for harsh conditions.
Garmin Tactix Delta Solar
Military-inspired and durable, with tactical features and solar charging. Perfect for extended missions and seamless integration with military operations.
Casio G-Shock Mudmaster GG-B100
A beast in toughness, designed to withstand mud and debris. Smart features make it versatile for demanding environments.
In Conclusion
As we all know, it's 2023, and its landscape of top best Tough Smart watches has significantly pushed the boundaries and design and Engineering to create a new device. Together with the most challenging involvement from the hostel and adventure-demanding workout settings, these best of Smartwatch 2023 combine the robustness and construction of cutting at future and offering straightforward lot realize mobile technology. The end of the Tough Smart watches looks perfect and ready for whatever you throw at it whenever you use an iPhone, Android, or any military Tough Smartwatch. These all are perfect, no matter your choice. These are to handle daily challenges more.