Hello all, gadget lovers! Pleased to have you back on our review course. This time around, we're taking a deep dive into an analysis of the Letsfit ID205L smartwatch. Nope, it's not competing with Apple Watch yet has managed to carve its popularity niche among Amazon users significantly. In this written piece, we delve headfirst as to why this inexpensive $35 wrist-tech could be your ideal pick if in pursuit for budget-smart alternatives that pack value and versatility together!
ID205L Smartwatch Unboxing and First Impressions
The LetsFit Smartwatch ID205L arrives neatly packaged and ready to impress. With a quick unboxing, you'll find the smartwatch, a user manual, and a magnetic charging cable. It's worth noting that this device is designed to be user-friendly right from the start.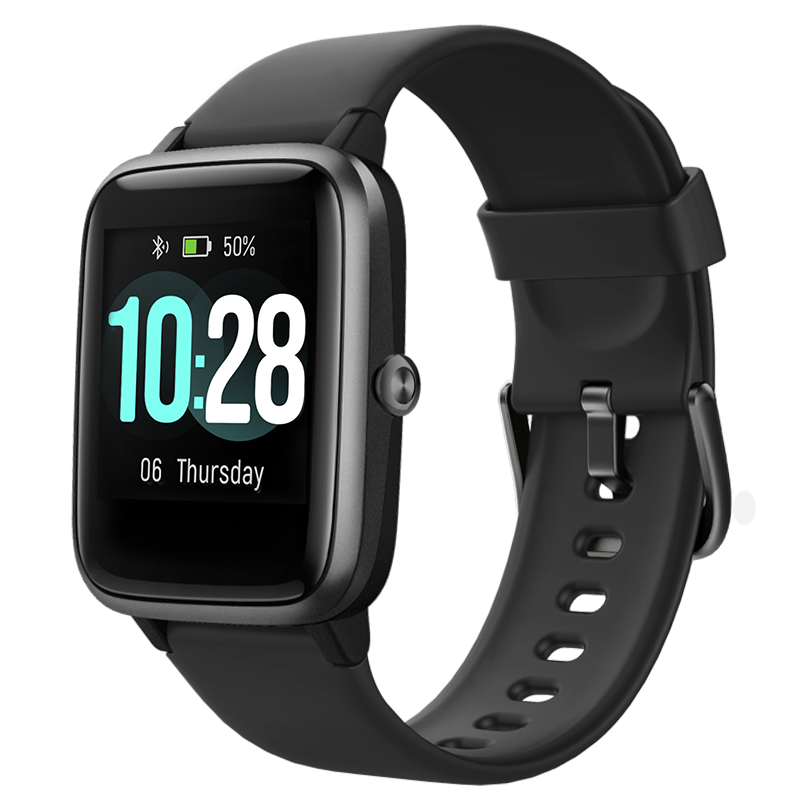 Save $10 with coupon (limited sizes/colours)
Modoex Letsfit ID205L Smart Watch, 1.3-inch touchscreen, Li Battery
See Buying Options
Letsfit ID205L Smartwatch Specifications
| | |
| --- | --- |
| Specification | Details |
| Model No. | ID205L |
| Bluetooth Connection Distance | 10 Meters (33 feet) |
| Screen Type | TFT LCD color screen |
| Material | TPU (strap) |
| Suitable Wrist Sizes | 5.4 – 7.6 inches |
| Battery Type | Li Battery |
| Battery Capacity | 210mAh |
| Working Voltage | 3.8V |
| Working Time | 10+ days |
| Charging Time | 2-3 hours |
| Water Resistance Rating | IP68 |
| Weight | 1.37oz (39g) |
ID205L Smartwatch Design and Build
The ID205L boasts a sleek and modern design that's both stylish and comfortable to wear. It's equipped with a 1.3-inch touchscreen, which offers a significant advantage over some of its competitors. This screen real estate allows for a more enjoyable and informative user experience.
Comparing it to a Fitbit Charge 2, the Let's Fit Smartwatch certainly stands out with its larger screen, making it easier to interact with notifications, messages, and fitness data.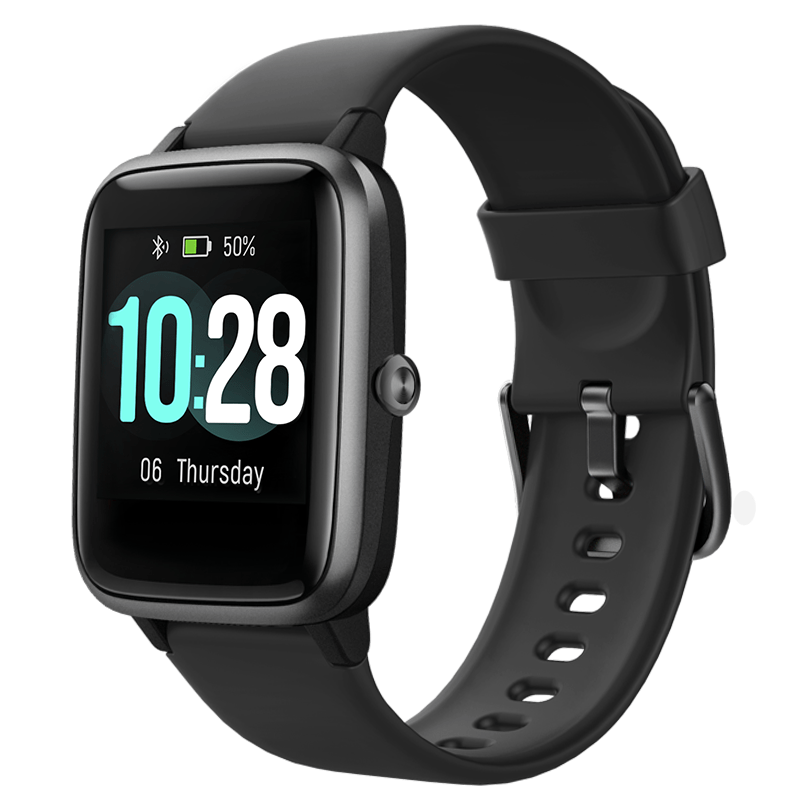 ID205L Smartwatch Features: Getting More for Your Money
When it comes to value for your money, the Let'sfit ID205L doesn't disappoint. With over 34,000 reviews on Amazon, it offers a variety of features that cater to the needs of the average person, all at a fraction of the cost of an Apple Watch.
Design: This smartwatch boasts a 1.3-inch touchscreen, IP68 waterproofing, and a remarkable 10-day battery life, making it ideal for daily use.
Health Tracking: It comes equipped with a pedometer, heart rate monitor, and activity tracker that monitors exercise, sleep quality, and calorie burn.
Additional Features: The Let's Fit smartwatch also offers a relaxation trainer, alarms, timers, and call/message notifications. And, it includes a music controller for your convenience.
One of the notable advantages is its compatibility with both Android and iOS, ensuring a seamless experience for users regardless of their preferred operating system.
You Might Also like:
Correcting the Misconception
Let me share a little story with you. Multiple people have mistaken this budget-friendly smartwatch for an Apple Watch. When I correct them, it's like watching their gears grind as they struggle to comprehend the fact that you don't need to break the bank for a high-quality smartwatch. The satisfaction of making the right financial choice is truly heartwarming.
ID205L Smartwatch Fitness Tracking Features
If you're new to the world of smartwatches and fitness tracking, the Letsfit ID205L has you covered. Let's break down the tracking features that make this smartwatch stand out.
Pedometer: It counts your steps and estimates the distance you've walked, helping you set daily goals.
Heart Rate Monitor: Essential for tracking sleep quality and exercise performance by monitoring your heart rate.
Activity Tracking: It calculates calorie burn based on your heart rate, though the accuracy of its calorie tracker may vary.
Exercise Recognition: While it can't automatically detect exercise types like pricier alternatives, it's a budget-friendly pick.
ID205L Smartwatch Real-world Usage and Minor Gripes
To get the full smartwatch experience, you'll need to wear it 24/7, and this smartwatch's remarkable battery life makes it possible. It's comfortable to wear, but having something on your wrist while sleeping might take some getting used to.
I do have a couple of minor gripes with this smartwatch. First, if you don't dismiss notifications promptly, they tend to linger, obscuring the time. Second, there's a slight delay in displaying the time when you raise your wrist.
Despite these minor inconveniences, the Letsfit ID205L excels at showing notifications. It conveniently displays the entire message, allowing you to stay connected without reaching for your phone.
Waterproof and Long Battery Life
With an IP68 waterproof rating, the ID205L can accompany you for a swim in the pool. Its impressive battery can last up to 7 days with regular use and an incredible 35 days in standby mode. No more frequent charging!
ID205L Smartwatch User Interface and App
Navigating the Let's Fit Smartwatch is relatively simple. The device features a single function button and intuitive touchscreen controls. You can swipe up to view your daily activity, swipe down to access your messages, and swipe left or right to explore various functions and settings.
Connecting the smartwatch to the VeryFit Pro app allows you to view and analyze your fitness data, sleep patterns, and heart rate trends over time. However, some users may find the app interface a bit less user-friendly than expected, which could be a minor drawback.
Setting Up the Letsfit ID205L Smartwatch
The setup process for the Let'sfit ID205L is relatively straightforward. You can pair it with both iPhones and Android devices using the "VeryFit Pro" app. Here are the steps to set it up with an iPhone:
Download the "VeryFit Pro" app from the Apple App Store.
Ensure that Bluetooth is turned on both on the watch and your phone.
Open the "VeryFit Pro" app and tap on the "Device" tab.
Select "Bind Device" to pair the watch with the app.
Follow the on-screen instructions to complete the pairing.
Once paired, the watch will display a Bluetooth symbol, indicating a successful connection.
VeryFit Pro App
The "VeryFit Pro" app provides comprehensive control over the smartwatch's settings and data. It displays information such as step count, calorie data, distance, and activity duration. Sleep tracking and heart rate monitoring data are also available. The app allows you to configure notifications for calls, messages, social media, and control music playback. You can customize device settings, language, find your phone, and set up do not disturb mode.
ID205L Smartwatch Pros and Cons
Now, let's sum up the pros and cons of the Let's Fit Smartwatch ID205L:
Pros:
Affordability: The ID205L offers an incredible value for its price, making it accessible to a broad range of users.
Large Touchscreen: The 1.3-inch touchscreen is a standout feature, providing a better user experience.
Waterproof: The IP68 rating ensures that the smartwatch can handle various conditions, including rain or sweat.
Cons:
Durability Concerns: Given its affordability, some users may question its long-term durability.
App Interface: The VeryFit Pro app, while functional, could be more user-friendly.
Conclusion: An Affordable Alternative to Expensive Smartwatches
In conclusion, the Letsfit ID205L offers an incredible array of features for its $35 price tag. It challenges the notion that a $200+ Apple Watch is significantly better. Most people can't even tell the difference, making it a practical choice for those looking to get the most value from their smartwatch.
So, if you're considering a smartwatch, I recommend giving the Letsfit ID205L a try first. It might just have everything you need without breaking the bank. This is Kian from Rarfleek's Tech Studio, and I'll catch you in the next one. Don't forget to hit that subscribe button to stay updated with our latest tech reviews. Peace!