In a world where technology and luxury seamlessly blend, the TAG Heuer Connected Calibre E4 emerges as a stunning example of refined innovation. In this comprehensive review, we'll dive into the intricate details of this smartwatch masterpiece. From its design elegance to cutting-edge features, we'll explore why the Connected Calibre E4 stands out as a pinnacle of luxury in the realm of smartwatches.
Unboxing and First Impressions
Upon opening the meticulously designed outer box, one is greeted with a sense of anticipation that rivals unearthing a hidden treasure. The watch box, reminiscent of TAG Heuer's previous offerings, cradles the Connected Calibre E4 securely. Also included are a manual for quick setup and a microfiber cloth for keeping the watch pristine. Beneath the watch box lies a charging pad, a USB charger, and a USB-C cable, catering to the essential charging needs.
Save 10 with coupon (limited sizes/colours)
TAG Heuer Connected Modular 45 Men's Smartwatch SBF8A8013.80BH0933
See Buying Options
Tag Heuer Connected Specification Table
| | |
| --- | --- |
| Specification | Details |
| Brand | TAG Heuer |
| Model Name | SBF8A8013.80BH0933 |
| Style | Modern |
| Colour | Black PVD |
| Screen Size | 7 Inches |
| Display Technology | AMOLED |
| Resolution | 390 x 390 |
| Operating System | Android, iOS |
| Connectivity | Bluetooth BLE 4.1, WiFi 2.4 GHz 802.11 B/G/N |
| Compatibility | Android 4.4+ / iOS 9+ |
| Processor | Intel Atom Processor Z34XX |
| Memory | 512MB Main Memory with 4GB Storage Memory |
| Battery | Rechargeable Battery Operated Quartz Movement |
| Battery Life | Not specified |
| Charging | Includes Charging Cable |
| Features | Microphone, Alarm, GPS, Gyroscope with Tilt Detection, Chronograph |
| Sensors | Accelerometer, Gyroscope, Ambient Light Sensor |
| Water Resistance | 50 Metres / 165 Feet |
| Case Material | Black Titanium Case |
| Bezel | Matte Black Ceramic Bezel |
| Bracelet | Matte Black Ceramic Bracelet |
| Buckle | Black Titanium Carbide Coated Stainless Steel Deployment Buckle |
| Crystal | Scratch Resistant Sapphire Crystal |
| Case Size | 45mm (1 3/4″) |
| Case Thickness | 13.75mm |
| Weight | 64.4g |
| Package Dimensions | 25.91 x 20.96 x 16.51 cm; 1.36 Kilograms |
| Included Items | Manufacturer Box, E Manual (sent by email), Certificate of Authenticity |
| Known As Model Numbers | SBF8A801380BH0933 / SBF8A8013 80BH0933 |
| Batteries Included | No |
| Batteries Required | No |
| Wireless Type | Bluetooth |
| Connector Type | Wi-Fi |
| Device Interface – Primary | Microphone |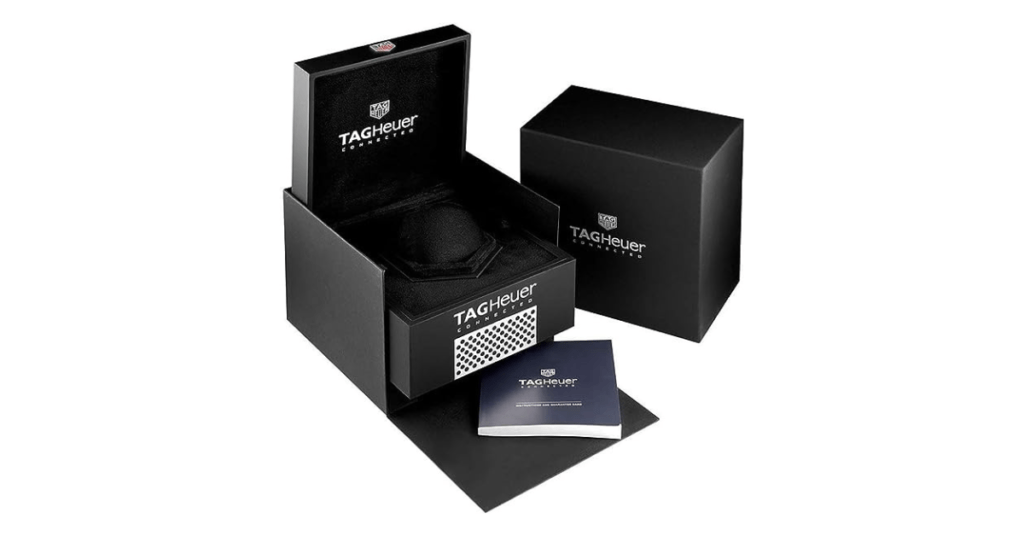 TAG Heuer Connected Design and Variants
The Connected Calibre E4 comes in two sizes – 42mm and 45mm, ensuring a fitting option for various wrist sizes and styles. The 42mm version, characterised by its classy and elegant design, is ideal for those seeking a more refined look. Its slightly curved sapphire glass, stainless steel crown, and strategically placed pushers at 2 and 4 o'clock exemplify sophistication.
Conversely, the 45mm version leans towards sportiness, featuring a flat sapphire glass surrounded by a ceramic bezel. The crown, crafted from rubberized stainless steel, offers enhanced grip, and the pushers maintain their function at 2 and 4 o'clock. This version is also available with a striking black titanium case, catering to diverse tastes.
TAG Heuer Connected Comparing Calibre E3 and E4
Drawing a parallel between the previous generation, the Calibre E3, and the new Calibre E4 reveals subtle yet impactful design enhancements. The enlarged crown of the E4 exudes elegance while the streamlined pushers contribute to its sleekness. The rubber strap's improved ventilation ensures comfort during warmer months, and the added markings facilitate effortless bracelet attachment.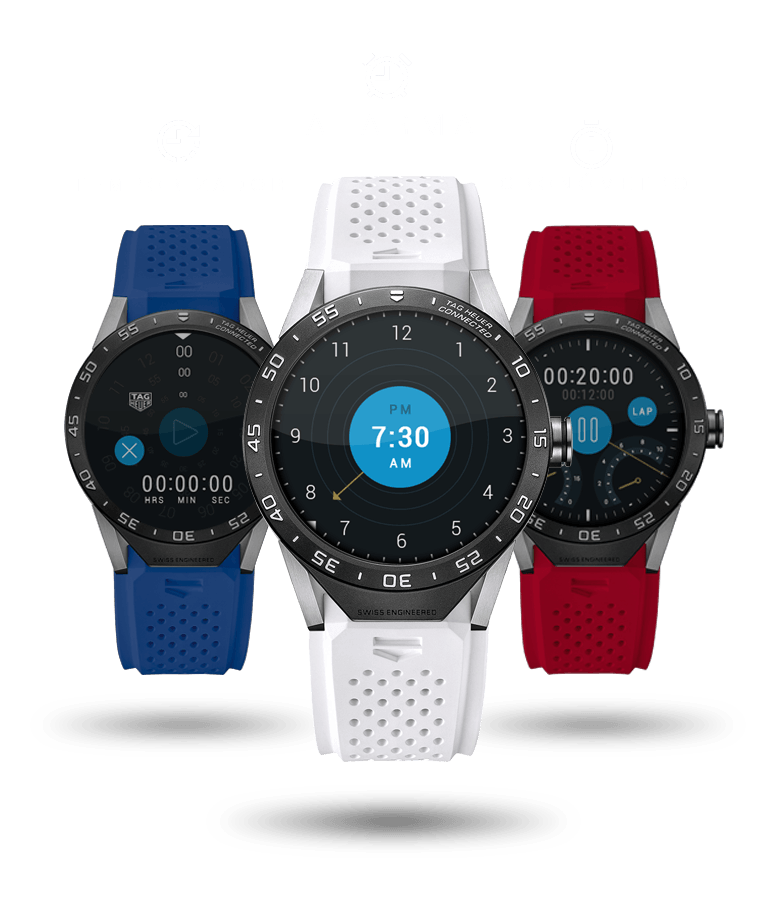 TAG Heuer Connected Design and Build Quality
The Tag Heuer Connected stands out for its premium styling, bringing a touch of Swiss luxury to the world of smartwatches. Despite its 45mm size, the watch's chunkiness isn't overpowering, and it complements various wrist sizes. The use of premium materials, like sapphire crystal for screen protection and durable ceramics, ensures its resilience against daily wear and tear. The option to customise with a titanium strap adds further flair, albeit at an additional cost.
TAG Heuer Connected Display and Interface
Sporting a 1.39-inch OLED display with a resolution of 454 x 454 pixels, the Tag Heuer Connected offers crisp visuals and vibrant colours. The display's auto-brightness feature ensures clear visibility even under sunlight. The smartwatch operates on Google's Wear OS, providing access to notifications, Google Assistant, and a twistable dial that, alongside touch functionality, facilitates navigation.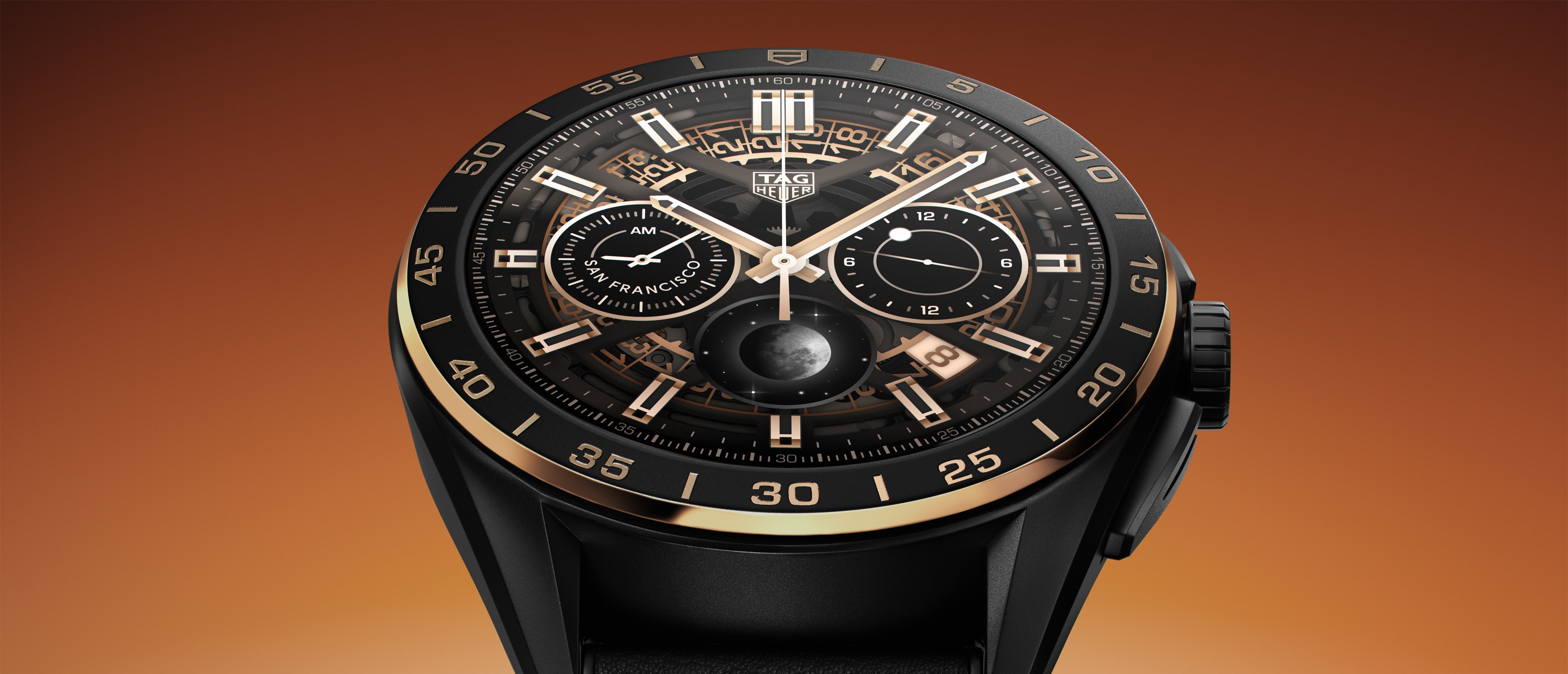 TAG Heuer Connected Software and Apps
The Wear OS on the Tag Heuer Connected offers a comprehensive experience, allowing users to receive notifications and interact with the Google Assistant. However, the absence of a built-in speaker restricts voice interactions and call functionality. Navigating the UI is enhanced by the tactile twistable dial and shortcut buttons. Users can customise watch faces and download various apps from the Google Play Store to enhance their smartwatch experience.
You Might Also Like:
TAG Heuer Connected Fitness and Health Features
For fitness enthusiasts, the Tag Heuer Connected offers built-in GPS and heart rate monitoring, allowing precise tracking during activities. The Tag Heuer Sports app caters to core activities like walking, running, and cycling. Although sleep tracking is unavailable, the smartwatch integrates an SpO2 sensor for blood oxygen level measurements. The dedicated golf app appeals to golf aficionados with detailed course maps and tips.
TAG Heuer Connected Performance and Battery Life
Equipped with a Qualcomm Snapdragon Wear 3100 chipset and 1GB of RAM, the Tag Heuer Connected ensures smooth performance. Apps load swiftly, and navigation is seamless. However, the battery life is a drawback, requiring nightly charging with all features enabled. An energy-saving mode offers basic timekeeping when battery levels are low, extending usage.
TAG Heuer Connected Watch Faces and Personalization
Tag Heuer Connected E4 takes personalization to a new level with its array of pre-loaded watch faces and customization options. Users can choose from a variety of watch face designs, some inspired by iconic Tag Heuer models like the Carrera. Additionally, the watch's display can be tailored to display a wealth of information, from fitness stats to notifications, making it a highly adaptable accessory for any occasion.
TAG Heuer Connected Technical Excellence
Under the hood, the Connected Calibre E4 boasts impressive technical specifications. The 42mm variant hosts a 1.28-inch OLED screen with a resolution of 416 x 416 pixels, achieving a pixel density of 326 PPI. Similarly, the 45mm model showcases a 1.39-inch OLED display with 454 x 454 pixels resolution, maintaining the same pixel density. Both watches utilise the Qualcomm Snapdragon Wear 4100 Plus quad-core system-on-chip (SoC) with 1.7 GHz processing power. This new SoC translates to a 30% improvement in battery life for the 45mm version, promising prolonged usage.
TAG Heuer Connected Connectivity and Features
Connectivity options are abundant, including Bluetooth 5 and Wi-Fi 802.11 a/b/g/n. The inclusion of GPS and NFC amplifies the smartwatch's versatility. With its array of sensors – heart rate, accelerometer, compass, gyroscope, and barometer – the Calibre E4 provides comprehensive activity tracking capabilities. Operating on Google Wear OS 2, it is slated for an update to Google Wear OS 3 when available, ensuring a future-proof experience.
Model Variants, Prices, and Availability
The pricing and availability of the Connected Calibre E4 range cater to diverse preferences. The 42mm variant comes in steel, starting at $1,800 with a rubber strap, $1,900 with a leather strap, and $2,000 with a steel bracelet. The 45mm version, available in steel and black titanium, begins at $2,050 with a rubber strap, $2,250 with a steel bracelet, and $2,500 with a titanium case and rubber strap. These options will be accessible from March 10th through TAG Heuer boutiques, their website, and authorised dealers.
Save 10 with coupon (limited sizes/colours)
TAG Heuer Connected Modular 45 Men's Smartwatch SBF8A8013.80BH0933
See Buying Options
Conclusion
The TAG Heuer Connected Calibre E4 is more than a smartwatch; it's a statement of luxury and technological advancement. While the design enhancements from its predecessor, the Calibre E3, are subtle, they collectively elevate the experience. The robust hardware, extended battery life, and abundant connectivity options make it a truly powerful companion for modern life.
For those seeking a harmonious blend of timeless aesthetics and contemporary technology, the Connected Calibre E4 stands as a testament to TAG Heuer's dedication to excellence. Whether you're a tech enthusiast, an avid horologist, or simply someone who values the finer things in life, the Connected Calibre E4 offers a compelling proposition that transcends the boundaries of traditional smartwatches.
So, if you're ready to embrace luxury and innovation in unison, the TAG Heuer Connected Calibre E4 is undoubtedly a timepiece worth considering. To stay updated on the latest tech and luxury reviews, don't forget to give this video a thumbs up, subscribe to our channel, and ring the notification bell. Thank you for joining us in exploring the pinnacle of smartwatch elegance – until next time!