In the era of rapidly advancing technology, smartwatches have become an essential accessory for many, offering a variety of features that cater to both fitness enthusiasts and tech-savvy individuals. In this blog post, we'll delve into a review of the U80 Smartwatch, a budget-friendly option that might surprise you with its functionality despite its low price point. We'll examine its design, features, performance, and overall value for money.
Save 10 with coupon (limited sizes/colours)
U80 Smart Watch Bluetooth 4.0 Anti-lost Wrist Wrap Watch Phone Mate for Android and iPhone IOS(Partial function)
See Buying Options
U80 Smartwatch Specification
| | |
| --- | --- |
| Specification | Details |
| Brand | E-TKT |
| Model Name | U80 |
| Colour | Black |
| Screen Size | 1.44 Inches |
| Special Features | Sleep Monitor, Pedometer, Music Player |
| Shape | Square |
| Target Audience | Unisex Adults |
| Age Range | Youth |
| Compatible Devices | Smartphone |
| Display Type | LCD |
| Bluetooth Version | 4.0 |
| Multifunction Features | Dial, Short Message, Phone Book, Call History, BT Notification, BT Music, Long-distance Capture, Pedometer, Drink Reminder, Rest Reminder, Sleep Monitor, Anti-theft, Power Save Mode, etc. |
| Compatibility | Android: Samsung S3/S4/S5/Note 4/Note 3, HTC, Sony, etc. (Not compatible with Android Lollipop 5.0) |
| | iPhone: 4/4S/5/5S/6/6 Plus (Except for 'Messages', 'BT notice', and 'BT camera') |
| Material | Zinc Alloy + Silicone |
| Size | 40 x 47 x 11 mm |
| Screen Resolution | 128 x 128 |
| Talk Time | Approximately 3 hours |
| Touch Screen | Capacitive Screen |
| Standby Time | Approximately 160 hours |
| Battery Capacity | 230mAh LI-ION |
| Language Options | English, French, Spanish, Portuguese, Italian, German, Turkish, Russian |
| Package Includes | 1 x Smart Watch |
| | 1 x Cable |
| | 1 x User Manual |
| Product Availability | Discontinued by Manufacturer: No |
| Package Dimensions | 10.2 x 8.2 x 5.2 cm; 120 Grams |
| Date First Available | 15 Oct. 2015 |
| Manufacturer | TKT Technology Co., Ltd |
| ASIN | B016NUPMNA |
| Item Model Number | TKTASWA-021 |
| Guaranteed Software Updates | Until Unknown |
| Customer Reviews | 3.1 out of 5 stars, 15 ratings |
| Price | $19.10 |
Unboxing and Initial Impressions
Upon unboxing the U80 Bluetooth Smartwatch, the reviewer takes us through the contents of the package. The Smartwatch, a model known as "U80," is the main attraction. The package also includes a USB to microUSB cable for charging and an English user manual.
Save 10 with coupon (limited sizes/colours)
U80 Smart Watch Bluetooth 4.0 Anti-lost Wrist Wrap Watch Phone Mate for Android and iPhone IOS(Partial function)
See Buying Options
U80 Smartwatch Design and Build
The U80 Smartwatch, available for a mere $11, stands as an affordable contender in the smartwatch market. The device's exterior is primarily composed of plastic, which might not exude a premium feel, but considering its price, it's hard to fault the material choice. The band, made from soft rubber, draws parallels to the LG G Watch, offering a comfortable fit for extended wear. The watch itself features three buttons on its small screen: return, OK, and app buttons. On the left side, a microphone and a speaker reside, while the right side sports the power button.
You Might Also Like:
iTECH Fusion 2 Smartwatch Review
FITVII Slim Fitness Tracker Review
U80 Smartwatch Features and Functionality
Despite its modest cost, the U80 Smartwatch manages to pack in several noteworthy features. Connecting to smartphones through various apps, the watch enables users to interact with notifications, calls, and more. Although it doesn't run on the Android operating system, it does provide a simplified interface through its proprietary apps.
Notifications: The accompanying app, the MediaTek Smart Device, facilitates the seamless transfer of notifications from your smartphone to the watch. While you can't reply directly from the watch, it serves as a convenient way to stay updated.
Display: Surprisingly, the U80's display surpasses expectations for its price range. The screen's brightness is commendable, allowing visibility even in direct sunlight. The watch's functionality, including making calls, viewing missed calls, and controlling music playback, are all accessible from the watch face.
Camera: The watch features a Bluetooth camera function, allowing you to capture moments remotely. However, one limitation is that you can't see the picture directly on the watch screen; instead, you view it on your connected smartphone.
Connectivity: The Bluetooth feature enables connectivity between the Smartwatch and a smartphone. This connection allows for various functionalities, including call handling and message notifications.
Phonebook and Dialer: The Smartwatch can display contacts from the paired smartphone, and users can initiate calls directly from the watch.
Messaging: While there's a messaging feature, it requires a specific application to be installed on the paired smartphone.
Music and Camera Control: The Smartwatch can play music from the smartphone's music player and control the smartphone's camera shutter. However, these features also require the installation of dedicated apps.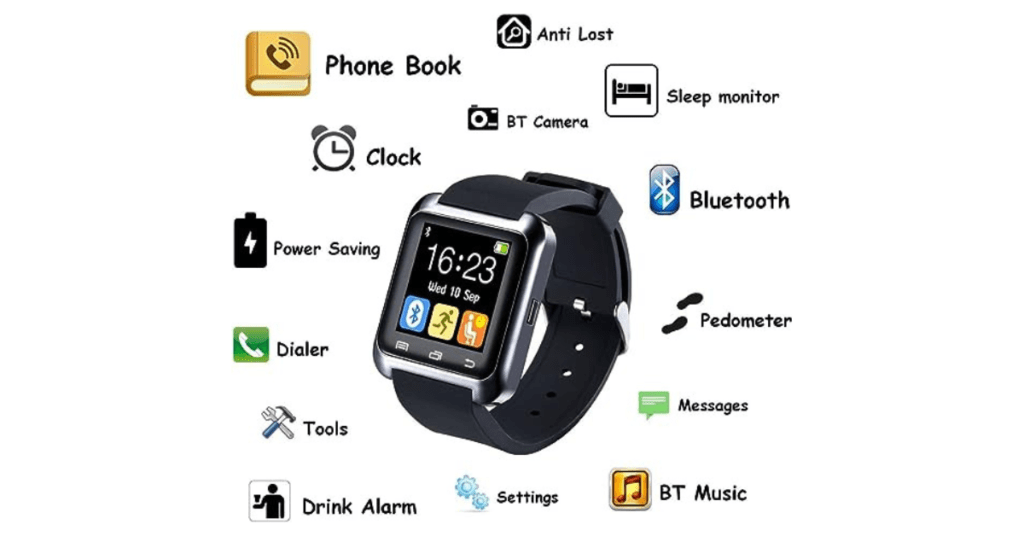 U80 Smartwatch Customization and Settings
The U80 Smartwatch boasts a variety of customization options, enhancing its user experience and personalization.
Clock Display: Users can choose between analog and digital clock faces, tailoring the watch's appearance to their preferences.
Language and Connectivity: With a range of language options available, users can easily navigate the watch's settings in their preferred language. Additionally, the watch connects to smartphones through Bluetooth, ensuring a seamless integration.
Health and Fitness Features: The watch offers several fitness-oriented functions, including a pedometer and sleep monitor. These features provide insights into daily activity levels and sleep quality.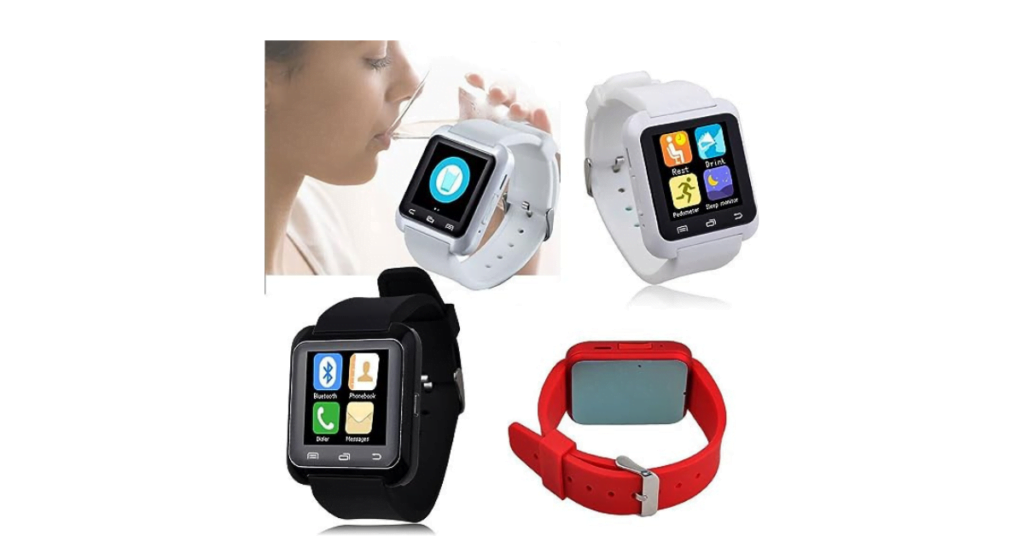 U80 Smartwatch Performance and Battery
Considering its price, the U80 Smartwatch manages to deliver a satisfactory performance. Its pedometer, sleep monitor, and basic notification handling function well. The battery life, while not extensively tested, proves decent for the watch's intended purpose. The power-saving mode further extends the device's usability on a single charge.
Battery Life: The built-in rechargeable battery has a capacity of 350 mAh. When fully charged, it's estimated to provide standby mode for around 120 to 160 hours. However, using advanced features like Bluetooth connectivity extensively can drain the battery faster.
Touchscreen and Responsiveness: The touch screen responds well most of the time, but occasional delays are noted.
U80 Smartwatch Pros and Cons
Pros:
Impressive connectivity features, including call handling and notifications.
Sleek design and multiple colour options.
Health and fitness tracking features.
Useful tools like alarm clock, calculator, and stopwatch.
Cons:
Some features require specific applications, which may be inconvenient for users.
Battery life can be significantly reduced with constant Bluetooth usage.
Occasional touchscreen response delays.
Not all additional features may be practical for everyday use.
U80 Smartwatch APP
The U80 Smartwatch typically comes with its own companion app named "BTSmartwatch APP" that you can install on your smartphone to enhance its functionality and customise settings. You can get the app by scanning the QR code provided in the app menu or by searching BTSmartwatch APP in the APP Store.
Conclusion
In a market flooded with smartwatches catering to a wide spectrum of needs and budgets, the U80 Smartwatch stands out as a budget-friendly option that doesn't compromise on functionality. For a mere $11, it provides essential features such as notification handling, fitness tracking, and remote control functionalities. While it might not boast the premium aesthetics of pricier models, its affordability and reasonable performance make it a noteworthy option, particularly for those new to the smartwatch scene or seeking an economical backup device.