In this article, we will be reviewing the Vido Smart Watch, a budget-friendly option priced at £15 and available at Poundland. The review will cover its features, design, usability, and overall performance.
In the ever-evolving world of fitness technology, finding an affordable yet functional fitness tracker is a treasure hunt for many. Poundland, known for its variety of budget-friendly products, has stepped into this arena with the Vido Fitness Tracker. Priced at a mere £15, this gadget claims to offer a suite of features to help you monitor your fitness. In this article, we'll delve into what the Vido Fitness Tracker has to offer and whether it lives up to its promises.
Unveiling the Vido Smart Watch
The Vido Smart Watch is an affordable alternative for those seeking a smartwatch experience without breaking the bank. Priced at just £15, this watch offers a range of features typically associated with more expensive devices. Let's delve into its features and specifications. Save $10 with coupon (limited sizes/colours)
Viido Premium Smart Watch, Find your phone, remote shutter for your phone's camera.
See Buying Options
Unboxing the Vido Smart Watch
The unboxing experience of the Vido lifestyle Smartwatch reveals a thoughtfully designed package. Here's a breakdown of what you'll find inside the box:
The Smartwatch: A sleek and metal-bodied Smartwatch with a 1.3-inch display.
Charging Cable: A magnetic charging cable for powering up the device.
Manual: An informative manual with instructions and a QR code to download the accompanying application.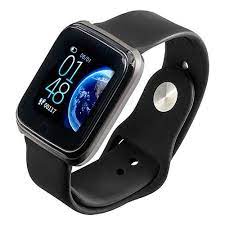 Vido Smart Watch Features and Specifications
Integrated Multi-Sports and Sleep Modes: The Vido Smart Watch boasts integrated multi-sports and sleep modes, catering to fitness enthusiasts and those monitoring their sleep patterns.
Notification Connectivity: The smartwatch allows seamless connection with your phone, enabling you to receive notifications directly on your wrist.
Alarm Setting: This feature ensures you never miss an important event or appointment, adding to the watch's practicality.
Long Battery Life: The Vido Smart Watch promises a long-lasting battery life, reducing the need for frequent charging.
Health Monitoring: The device offers a blood pressure reader and a blood oxygen reader, providing estimated readings for users concerned about their health.
Notable Features:
Health Monitoring: Heart rate, blood pressure, blood oxygen, and sleep monitoring.
Fitness Tracking: Pedometer, calories burnt, exercise modes, and more.
Notifications: Connects to your phone for call and message notifications.
Remote Functions: Find your phone, remote shutter for your phone's camera.
Vido Smart Watch Design and Build Quality
The Vido Smart Watch stands out with its premium metal body, offering a sleek and stylish appearance. The metal body not only adds to its aesthetics but also contributes to a durable build, ensuring longevity.
The strap is comfortable to wear and easily adjustable, though some users might find it challenging to secure at first. Despite this minor drawback, the overall design is quite impressive considering the price point.
Vido Smart Watch Display
The Vido Smart Watch boasts a compact display that strikes a balance between size and readability, ensuring a comfortable fit on the wrist while providing clear information at a glance. While the specific display type (LCD or OLED) and resolution were not explicitly mentioned, it's designed to convey vital information effectively, catering to users' everyday needs and enhancing their overall smartwatch experience.
Vido Smart Watch Battery
The Vido Smart Watch, priced at £15 from Poundland, is equipped with a battery that offers a decent lifespan. Users report that the device holds a charge effectively, requiring infrequent charging even with regular use. However, some caution is warranted as there have been instances where the strap's longevity has been questioned, possibly affecting the charging mechanism over time. Despite these considerations, the smartwatch's battery performance makes it a reasonable choice for those seeking an affordable wearable with a reliable power source.
You Might Also Like:
Vido Smart Watch Usability and Performance
The Vido Smart Watch delivers on its promise of providing essential smartwatch features. It accurately tracks steps, distance, calories burned, and heart rate. The estimated readings for blood pressure and blood oxygen levels may not be as precise as medical-grade devices, but they offer a general understanding of your health status.
One notable drawback is the user interface, which can be a bit clunky and challenging to navigate. The haptic button might not be the most responsive, requiring multiple attempts to register a press.
Vido Smart Watch User Experience
The Vido Fitness Tracker provides a basic fitness tracking experience. Users can monitor heart rate, track steps, and receive notifications. However, the accuracy of some features, especially the health-related readings, is questionable.
Vido Smart Watch Compatibility
The Vido Smart Watch is designed to be compatible with both iOS and Android devices, providing a versatile user experience. Whether you have an iPhone or an Android smartphone, this budget-friendly smartwatch can seamlessly connect and sync with your device. The broad compatibility makes it an accessible choice for a wide range of users, allowing them to enjoy its features regardless of their preferred mobile operating system.
Setting Up the Vido Smart Watch
Setting up the Vido lifestyle Smartwatch is a straightforward process. Here's a step-by-step guide:
Charge the Smartwatch: Use the provided charging cable to fully charge the Smartwatch before first use.
Power On: Press and hold the power button at the bottom of the watch for three seconds to turn it on.
Download the Application: Scan the QR code from the manual using your smartphone to download the application from the respective app store (iOS or Android).
Pair the Devices: Open the application, tap on devices, and follow the instructions to pair your Smartwatch with your smartphone.
Pros and Cons
Pros:
Affordable pricing at £15.
Lightweight and comfortable design.
Notifications for calls and messages.
Cons:
Accuracy of health-related readings is doubtful.
Limited screen size, making text display challenging to read.
Build quality may not be robust, as some users report strap issues.
Conclusion
The Vido Smart Watch, priced at just £15 and available at Poundland, presents an enticing option for those on a tight budget. While it may not offer the same level of performance and accuracy as high-end smartwatches, it provides essential features and a stylish design at an affordable price.
If you're looking for a budget-friendly smartwatch to track your daily activities and receive notifications on the go, the Vido Smart Watch is worth considering.
Stay tuned for more reviews and updates on budget tech options!