In this article, we will examine the H11 Pro Smartwatch, a remarkable device provided by the Subwing Official Store on AliExpress. As an enhanced version of the H10 Pro Smartwatch, renowned for emulating the Apple Watch Series 8, the H11 Pro encompasses a blend of style, functionality, and convenience, aligning with the evolving integration of smartwatches into our daily lives.
The smartwatch landscape has long been shaped by Apple's groundbreaking designs and features. Nevertheless, a growing number of users seek alternatives that mirror Apple's functionalities while being more affordable. Enter the H11 Pro Smart Watch—a clone of the esteemed Apple Watch Series 8. While visually resembling the Apple Watch, the H11 Pro comes at a fraction of the price, presenting an intriguing choice for both tech enthusiasts and those mindful of their budget. In this extensive review, we will meticulously examine its design, features, and overall performance.
H11 Pro Smartwatch: A Brief Overview
The H11 Pro Smartwatch is part of the latest wave of Series 8 replicas, offering a 45 mm size and a stunning frosted frame. It boasts features that you'd expect from a top-tier smartwatch, including a compass application and a proximity sensor. But does it live up to its promises? Let's find out.
Unboxing the H11 Pro Smartwatch
The unboxing experience of the H11 Pro Smartwatch is an exciting precursor to what awaits within. Upon opening the package, you are greeted with a carefully curated ensemble. Enclosed within the box are essential components including a user manual, a wireless charger, silicone straps, and, of course, the H11 Pro Smartwatch itself.
Embarking on this H11 Pro journey, let's commence with unboxing this intriguing smartwatch. The packaging mirrors the aesthetic of the original Apple Watch Series 8, reminiscent of its design, pictures, and even the inclusion of a wireless charger. A notable deviation, however, is the necessity for a specific charger tailored for the H11 Pro. This design choice is pivotal in averting potential overheating issues, a significant advantage over using generic smartwatch chargers. Additionally, the package offers a sport band, catering to the preferences of active users.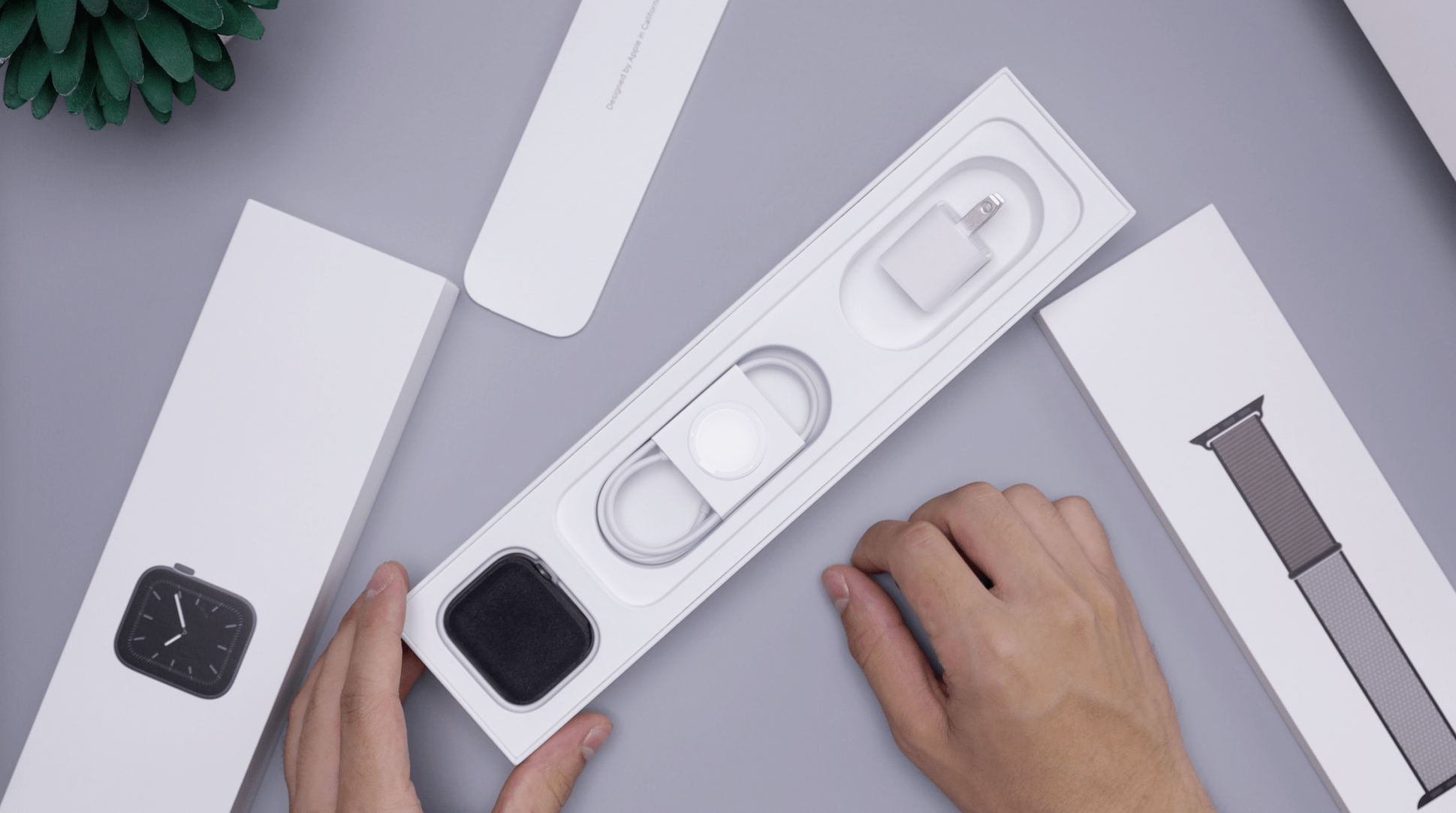 H11 Pro Smartwatch Price & Availability
Before we dive into the details, it's crucial to understand the affordability and accessibility of the H11 Pro Smartwatch. This device can be found on AliExpress, specifically at the Subwing Official Store. The pricing and availability may vary, so it's a good idea to check the store's current listings for the most up-to-date information.
Save $10 with coupon (limited sizes/colours)
2023 New TOP H11 Pro Smart Watch Series 8 Compass Real Heart Rate Monitor SpO2 Sport 45mm Smartwatch Fly9 for Men Women Fitness Tracker (Black)
See Buying Options
H11 Pro Smartwatch Specification Table
| | |
| --- | --- |
| Specification | Details |
| Product Name | H11 Pro Smartwatch |
| Price | A$80.00 |
| Brand | Generic |
| Model Name | Series 8 |
| Style | Modern |
| Colour | Black |
| Screen Size | 1.91 Inches |
| Wireless Communication Technologies | Bluetooth |
| Connectivity Technologies | Bluetooth, GPS |
| GPS | Yes |
| Special Features | Heart Rate Monitor |
| Other Display Features | Wireless |
| Human Interface Input | Touchscreen |
| Battery Power Rating | 200 Milliamp Hours |
| CPU | RTL8762DT |
| Dimension | 453810.8mm |
| Shell | Aluminum color, high similarity |
| Strap | Standard silicone strap, suitable for 44/45mm strap |
| Charger | Wireless magnetic charging |
| Storage | RAM 64M + ROM128M |
| Screen | 1.91-inch HD screen, 280*338 resolution |
| Touch Plane | 2.5D curved capacitive full-fit touch screen |
| Battery | Lithium-ion polymer battery, 200mAh |
| Speaker | Speaker 0916 |
| Motor | 0820 Vibration Motor |
| Bluetooth | Dual Bluetooth |
| Waterproof | IP68 life waterproof (not for swimming and bathing) |
| Language Support | English, French, German, Italian, Spanish, Portuguese, Russian, Turkish, Thai, Vietnamese |
| ASIN | B0BZS93ZRT |
| Date First Available | 29 March 2023 |
| Package Includes | Smartwatch, Charging cable, User manual, Original retail box |
H11 Pro Smartwatch Design and Build Quality
The design of a smartwatch is a crucial factor that greatly influences its appeal, and the H11 Pro excels in this regard. It presents a frosted frame, distinctly resembling the renowned Series 8 smartwatch. This design attribute infuses an element of sophistication, setting it apart from other replicas.
The H11 Pro Smartwatch leaves a lasting impression with its well-thought-out design, prominently featuring the frosted frame that distinguishes it from its predecessors. Boasting a 1.91-inch display with a resolution of 240 x 296, it showcases thin bezels and vibrant, captivating colors.
The design ethos of the H11 Pro closely mirrors that of the Apple Watch 8. A closer examination of the design elements, such as the crown, watch face, and overall aesthetics, reveals a deliberate effort to emulate the acclaimed Series 8. However, nuanced differences exist, prompting an exploration of whether these distinctions are significant enough to categorize it as a genuine clone.
The H11 Pro's design leaves a lasting impression, and at first glance, it could easily be mistaken for an Apple Watch 8 due to its striking resemblance. Yet, upon closer inspection, it becomes evident that not all models of the H11 Pro blatantly declare their clone status. Notably, color options play a role in this perception; for instance, the midnight black variant deviates from the Apple Watch 8 by omitting the signature red circle. This subtle difference implies that the H11 Pro doesn't immediately shout "clone," underscoring the thoughtful design approach taken by its makers.
H11 Pro Smartwatch Display
At the heart of a smartwatch's appeal lies its display, and the H11 Pro truly shines in this aspect. Boasting a 1.91-inch screen with a resolution of 240×296, the display quality surpasses its advertised specifications, capturing attention with its immersive visual experience and sleek design highlighted by thin bezels.
The display of the H11 Pro stands as a pivotal element of its design. Remarkably, it outshines the original Apple Watch 8 in terms of screen brightness. This heightened brightness caters to users who prioritize clear visibility, enhancing the overall usability of the smartwatch. Moreover, the H11 Pro offers a personalized touch by enabling users to customize their watch faces, even allowing the upload of personal photos. This customization feature adds a unique and personal dimension to the smartwatch experience, resonating with individual preferences.
– Watch Faces
The H11 Pro Smartwatch offers a range of customizable watch faces, adding a personal touch to the user experience. These watch faces are interactive and allow easy access to applications.
– Always-On Display and Screen Off Clocks
The smartwatch supports an always-on display option and screen off clocks, providing flexibility in managing screen settings for improved battery life.
H11 Pro Smartwatch Battery
Battery life is a critical factor when choosing a smartwatch. The H11 Pro is equipped with a 220mAh battery, claiming to offer up to 3 days of normal usage. However, real-world usage might differ, and we will explore this in detail in the following sections.
You Might Also Like:
Best Apple Watch Ultra Clones 2023
Cool Things To Do With Apple Watches
H11 Pro Smartwatch Size and Dimensions
To assess how well the H11 Pro matches the Apple Watch 8, let's start with the size and dimensions. The Apple Watch 8 boasts a 45-millimeter size, and the H11 Pro proudly matches this dimension, ensuring that it closely resembles its inspiration. With a width of 45 millimeters and a thickness of 12.6 millimeters, the H11 Pro successfully imitates the Apple Watch 8's form factor.
H11 Pro Smartwatch Weight and Straps
Weighing in at 24.1 grams, the H11 Pro is impressively lightweight. When equipped with straps, it reaches a total weight of 43.3 grams. An interesting point to note is that the H11 Pro's straps are compatible with Apple Watch Ultra, highlighting the versatility of this smartwatch. However, it's worth mentioning that the reviewer expresses a preference for other bands over the sport bands included in the package.
H11 Pro Smartwatch Features
The H11 Pro smartwatch offers an array of features that extend beyond its primary function of timekeeping. These encompass:
Compass Application
Always-On Display
Screen Off Clocks
Tap-to-Wake Function
Multilingual Support
Do Not Disturb Mode
Vibration Intensity Adjustment
Bedside Clock Mode
Password Protection
Date and Time Format Options
In our upcoming sections, we will delve into each of these features, meticulously examining their performance and contributions to the overall smartwatch experience.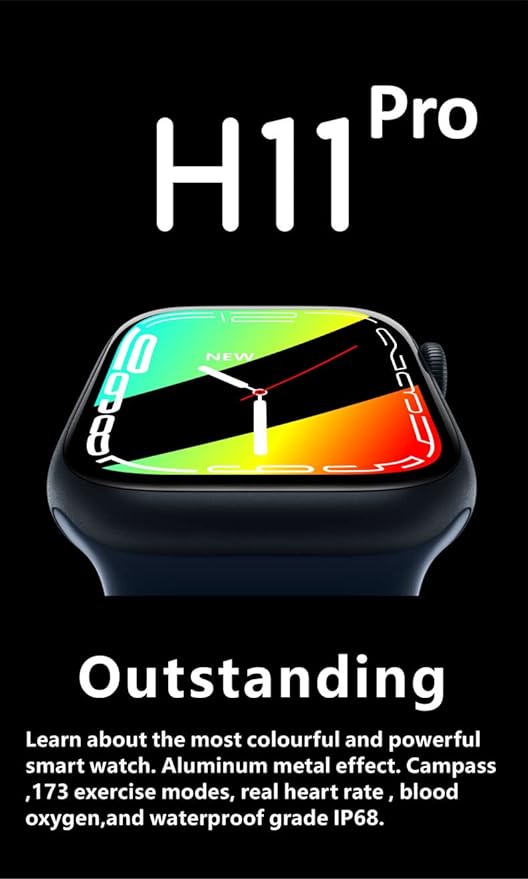 User Interface and Features
The H11 Pro showcases a user-friendly interface, leveraging a highly responsive touch screen to enhance user interaction. Operating on the reliable and smooth Qifit application, the smartwatch comes with an assortment of pre-installed watch faces, providing flexibility for users to delete or replace them with new choices. Moreover, users have the option to upload custom watch faces, including personal photos, allowing for a personalized and distinct smartwatch aesthetic.
Functionality and Fitness Features
An outstanding facet of the H11 Pro is its extensive range of fitness and health-related features. With support for an impressive 173 sport modes, it stands as an ideal companion for individuals leading an active lifestyle. The repertoire of fitness functions encompasses step tracking, heart rate monitoring, and blood oxygen level measurement. Although not tested during the video review, the reviewer expressed confidence in the functionality and accuracy of these features.
Entertainment and Additional Functions
In addition to its fitness features, the H11 Pro also offers entertainment and productivity options. It includes a game that takes advantage of its Gravity Sensor, allowing users to interact and have fun with their watch. The watch also features a music control function, allowing you to manage your music playback directly from your wrist. While some additional features like the "position" feature raised privacy concerns for the reviewer, the overall functionality is impressive.
H11 Pro Smartwatch Settings and Customization
The H11 Pro provides a range of settings and customization options to tailor the watch to your preferences. Users can adjust screen brightness, enable always-on display, and customize the watch's time settings. Additionally, the watch offers features like password protection, SOS calling, and language options, catering to a global audience.
Comparing the H11 Pro to the Apple Watch 8
It's evident that the H11 Pro smartwatch shares many design elements and features with the Apple Watch 8. The design, size, and functionality are all very similar. However, there are some key differences, such as the absence of the red compass screen, which is a unique feature of the Apple Watch Ultra. The H11 Pro impresses with its remarkable resemblance and affordability, offering a cost-effective alternative for users who desire the Apple Watch experience without the premium price tag.
H11 Pro Smartwatch Compatibility
Compatibility with other devices and platforms is crucial. The H11 Pro is compatible with Apple Watch Series 8 cases and straps, making it versatile and easy to integrate into your tech ecosystem.
Functionality and Applications
The H11 Pro Smartwatch comes with an array of features, including sports modes, heart rate monitoring, blood oxygen level checking, and sleep tracking. Additionally, it supports notifications from various applications, enabling users to stay updated on their smartphone activities.
H11 Pro Smartwatch App
To fully utilize the H11 Pro's potential, you can use the Qi Fit application. This app allows you to:
– Customize Watch Faces
– Receive Call Notifications
– Access Voice Assistant
– Get Weather Updates
– Control Media Playback
– Use Smartphone as a Bluetooth Shutter Button
– Set Time Format and System Units
H11 Pro Smartwatch Pros and Cons
Pros:
– Attractive Frosted Frame
– Interactive Watch Faces
– Impressive Display
– Compatibility with Apple Watch Accessories
– Various Useful Features
– Long Battery Life (as claimed)
Cons:
– Uncertain Battery Performance (real-world usage)
– Limited Language Support
– No Banner Notifications
– Limited Emojis Support
Conclusion
In conclusion, the H11 Pro Smartwatch stands out prominently in the Series 8 replica market, impressing with its captivating design, interactive watch faces, and an extensive range of features that firmly position it as a strong competitor. While its display quality and expected battery life hold promise, their true extent will be unveiled through real-world usage. Despite minor drawbacks, the H11 Pro delivers commendable value at its price point, making it a compelling choice for those in search of a stylish and functional smartwatch that aligns with their budget. Whether you're drawn in by its design, fitness features, or customization options, the H11 Pro warrants serious consideration as an economical yet proficient smartwatch. For individuals seeking a cost-effective alternative closely resembling the Apple Watch 8, the H11 Pro emerges as a promising and attractive option. Stay tuned for our upcoming comparison video, where we meticulously dissect the differences between the H10 Pro and H11 Pro, providing an in-depth understanding of their respective strengths and distinctions.