The GT88 Smart watch is a budget-friendly wearable device that offers a range of features including NFC, heart rate monitoring (HR), and Bluetooth capabilities. In this article, we provide a comprehensive review of the GT88 Smart watch, discussing its design, key features, user interface, additional functions, performance, and overall user experience.
Introduction to GT88 Smart Watch
The GT88 Smart watch is a dedicated smartwatch with a SIM card slot, allowing it to function as a cell phone watch. It offers the ability to place phone calls independently and can also be linked to a smartphone for data synchronization. This review aims to provide insights into the unique features of the GT88 Smart watch, including NFC, heart rate monitoring, and Bluetooth capabilities.
Save $10 with coupon (limited sizes/colours)
Smart Watch,GT88,TWOBIU(TM)Smart Watch with Heart Rate Test,G-Senser,HD IPS Screen,WaterProof Grade IP57 Support iOS and Android-Gold
See Buying Options
GT88 Smart Watch Specification
| | |
| --- | --- |
| Specification | Details |
| Product Name | GT88 Smart Watch |
| Price | $68.52 |
| Type | Smart Watch |
| Brand | TechComm |
| Color | Black |
| Weight | 2.5 oz |
| Dimensions | 1.80 x 1.50 x 0.50 inches |
| Display | 1.54-inch Capacitive Touch Screen |
| Resolution | 240 x 240 |
| Bluetooth Version | 4.0 |
| Battery | 350mAh |
| Camera | 0.3MP |
| Memory | 128MB (Internal) + Supports TF card up to 32GB |
| GSM/GPRS | 850/900/1800/1900 |
| Features | Pedometer, Camera, Sedentary Reminder, Remote Camera, Anti-lost, Heart Rate Monitor, Bluetooth, Sleep Monitor |
| Warranty | 1 Year |
GT88 Smart Watch Design and Packaging
The design of the GT88 Smart watch resembles the first-generation Apple Watch, featuring a 2.5D curved screen and a camera lens on the side. In comparison to its predecessor, the SWO 8, the GT88 Smart watch offers enhanced software elements and design improvements. The packaging includes a magnetic charging cable, a screwdriver for accessing the back panel, an extra screen protector, and a user manual.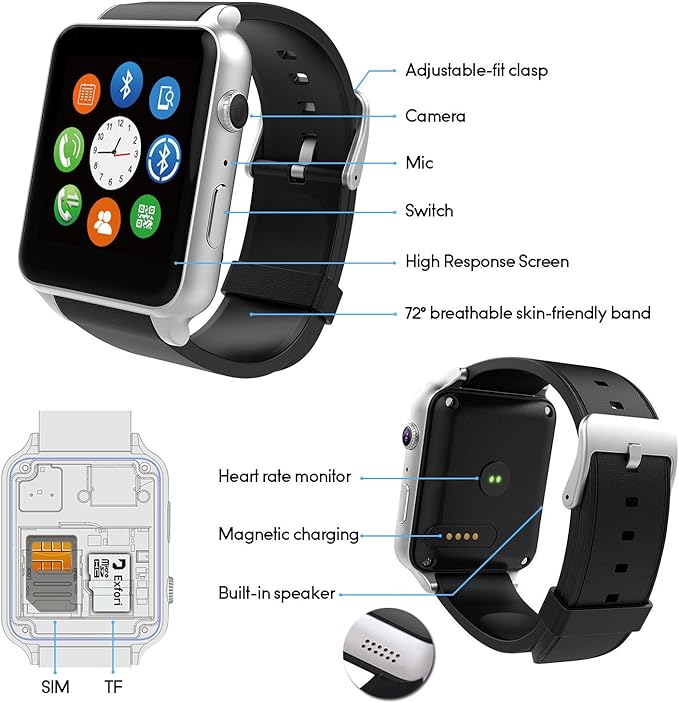 GT88 Smart Watch Display
The GT88 Smart Watch features a 1.54-inch capacitive touch screen display. This display is designed to provide a high-definition visual experience, ensuring clarity and sharpness in the displayed content. With a resolution of 240 x 240 pixels, users can expect clear and vibrant visuals on the screen, making it easier to navigate through the watch's interface and access various features.
The capacitive touch screen technology allows for intuitive and effortless interactions, enabling users to navigate, select, and operate the smartwatch with just a touch of their fingers. Whether viewing notifications, checking fitness data, or accessing other functionalities, the display ensures a smooth and responsive user experience.
GT88 Smart Watch Battery
The GT88 Smart Watch is equipped with a 350mAh battery. This battery capacity provides the necessary power to operate the smartwatch throughout the day, ensuring that users can make the most of its various features and functionalities without frequent recharging.
The 350mAh battery capacity strikes a balance between providing adequate usage time and maintaining a compact and lightweight design for the smartwatch. It allows users to engage in activities such as fitness tracking, receiving notifications, making calls, and utilizing other features without the need for constant charging.
The battery life may vary based on usage patterns and settings. With regular use and optimal settings, users can expect the GT88 Smart Watch to last a full day on a single charge, making it convenient for everyday use without the need for frequent recharging. When charging is necessary, users can use the provided USB charger to replenish the battery.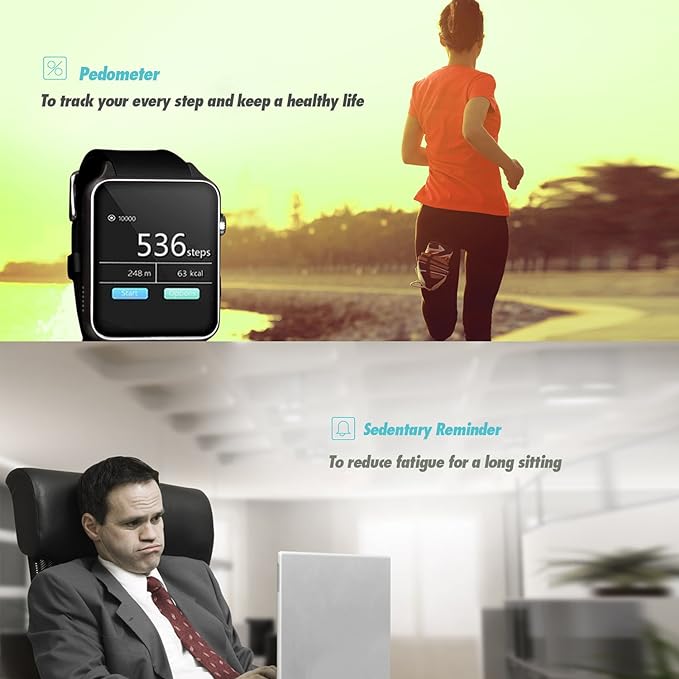 GT88 Smart Watch Key Features and Specifications
The GT88 Smart watch stands out for its SIM card slot, enabling phone calls and text messages. It incorporates a camera, requiring a micro SD card for image storage. Additionally, it features an optical heart rate sensor for fitness tracking, and the watch's construction is made of aluminum. The user can easily access the SIM card slot by unlocking four screws on the edges.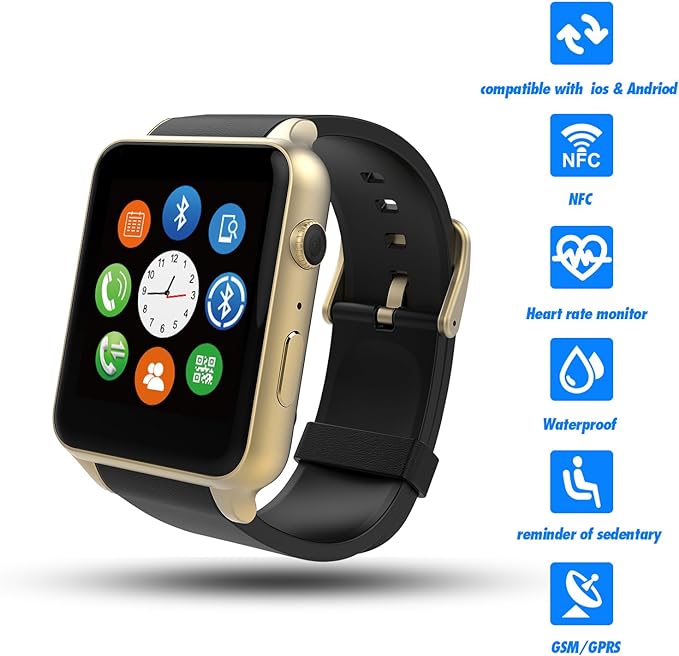 GT88 Smart Watch User Interface and Navigation
The GT88 Smart watch offers an intuitive user interface with a 2.5D curved screen, providing a smooth swiping experience between panels. The main menu is displayed in a carousel-like view, providing easy access to various utility programs, including a calendar and a calculator. The touchscreen is responsive, and the aspect ratio of the screen offers a comfortable working surface.
You Might Also Like:
Blackview R3 Pro Smartwatch Review
Additional Functions and Applications
The smartwatch offers additional functions such as a remote capture app, media player, and a file manager. It also features voice search recognition, a built-in microphone, and the ability to record voice memos. These functions enhance the versatility and usability of the GT88 Smart watch.
GT88 Smart Watch Performance and User Experience
The GT88 Smart watch delivers a satisfactory user experience, considering its price point. While it may not compete with high-end smartwatches, it offers commendable performance and functionalities, including the ability to function as a backup cell phone and a companion tool for notifications from the user's smartphone.
Operating System and Functionality
1. Nucleus Operating System
The GT88 Smart watch operates on the Nucleus operating system, distinguishing itself from Android-based smartwatches. Despite being a more budget-friendly option, the Nucleus OS allows for seamless pairing with smartphones.
2. Interface and Performance
The interface closely resembles the GT08, maintaining a consistent user experience. The smartwatch's performance is satisfactory, providing smooth usage and decent camera quality, making it a worthy competitor to other models in its price range.
3. Step Counter and Functionalities
Like many smartwatches, the GT88 features a step counter, tracking physical activity throughout the day. Additionally, it offers functionalities like setting alarms, timers, file explorers, health meters, and customizable watch faces.
User Experience and Affordability
1. Affordable Choice
Priced at approximately $44, the GT88 Smart watch presents an affordable option for individuals seeking to venture into the realm of smartwatches. Its price point makes it accessible for a broader audience without compromising essential features.
2. Aesthetic Appeal
The GT88 Smart watch's design mirrors that of the Apple Watch, offering a premium appearance without the high cost. This aesthetic resemblance enhances the perceived value of the device, making it an attractive choice for many.
GT88 Smart Watch Connectivity
The GT88 Smart Watch offers versatile connectivity options to enhance its functionality and provide a seamless user experience. Here are the key aspects of its connectivity:
Bluetooth (Version 4.0): The GT88 Smart Watch is equipped with Bluetooth 4.0 technology, allowing effortless and efficient connection with compatible smartphones. This feature enables the synchronization of data, notifications, and other interactions between the smartwatch and the paired smartphone without the need for physical cables.
GSM Unlocked: The smartwatch is GSM unlocked, enabling users to insert a GSM SIM card to utilize call and text functionalities directly from the watch. This feature allows for a standalone mobile experience, making and receiving calls without the need for the paired smartphone.
Remote Notifications: When connected to a smartphone via Bluetooth, the GT88 Smart Watch can display incoming calls, SMS messages, and other notifications directly on the watch's screen. Users can conveniently view and manage notifications from their smartphone without having to take it out of their pocket or bag.
Remote Camera Control: The smartwatch allows users to control their smartphone's camera remotely. This feature enables capturing photos and videos from the smartphone's camera using the watch, providing greater flexibility and convenience during photography.
These connectivity options combine to enhance the usability and versatility of the GT88 Smart Watch, ensuring a comprehensive smartwatch experience that seamlessly integrates with the user's smartphone and lifestyle.
GT88 Smart Watch Pros and Cons
Pros:
Affordable price point
SIM card slot for phone calls and text messages
Optical heart rate sensor for fitness tracking
Responsive touchscreen and intuitive user interface
Durable construction with aluminum body
Cons:
Limited app selection and menu layout may be confusing for some users
Separate icons for certain functions could be consolidated for better user experience
Conclusion
The GT88 Smart watch, with its NFC, HR, and Bluetooth capabilities, offers an attractive set of features at an affordable price. While it may not have the advanced functionalities of high-end smartwatches, it excels in providing a reliable companion device and fitness tracker. Considering its price, the GT88 Smart watch presents a compelling option for those seeking a budget-friendly wearable with essential functionalities. For a more detailed review, readers are encouraged to explore our official written review.