In this review, we'll be taking an in-depth look at the Blackview R3 Pro Smart Watch. Designed to cater to both men and women, this smartwatch comes in black, grey, and pink versions. Priced at around £30 or approximately $36 in the U.S., the Blackview R3 Pro offers a range of features that we'll delve into. We'll explore what's included in the box, its design, functionalities, battery life, and overall performance.
Introduction to the Blackview R3 Pro Smartwatch
The Blackview R3 Pro Smartwatch is an impressive offering from Blackview, a reputable brand known for producing reliable tech gadgets. This smartwatch is priced at approximately 30 pounds, making it an attractive option for budget-conscious consumers seeking a fully featured smartwatch experience.
Save $10 with coupon (limited sizes/colours)
Blackview R3 Pro Smart Watch for Android Phones and iOS Phones IP68 Swimming Waterproof Smartwatch Heart Rate Monitor Fitness Watch Activity Tracker Smartwatch for Men Women Compatible iPhone Samsung
See Buying Options
Blackview R3 Pro Unboxing and Accessories
Upon unboxing, the Blackview R3 Pro is nestled in foam protective packaging. Along with the smartwatch, the package includes a user manual with a comprehensive setup guide. Additionally, the accessories comprise a dual-pin magnetic USB charge cable and a spare fibre material Velcro fastening watch strap, providing users with versatile options.
Blackview R3 Pro Specification Table
| | |
| --- | --- |
| Specification | Details |
| Model | R3 Pro |
| Screen Size | 1.54 inches |
| Screen Type | TFT LCD colour screen |
| Strap Material | TPU |
| Suits for Wrist Size | 5.9 inches – 8.9 inches |
| Battery Type | Li-Battery |
| Battery Capacity | 280mAh |
| Working Time | ≥ 7 days |
| Standby Time | ≥ 30 days |
| Colour | R3Pro-black |
| Compatible Devices | Smartphones |
| Sensor Type | Wearable |
| Wireless Communication | Bluetooth |
| OS Compatibility | Android, iOS |
| Special Features | Time Display, Sleep Monitor, Sedentary Reminder, Activity Tracker, Notifications, Heart Rate Monitor |
| Other Display Features | Wireless |
| Human Interface Input | Dial, Touchscreen |
| Manufacturer | Blackview |
| ASIN | B08M9W4J8Y |
| Item Model Number | R3Pro |
| Product Dimensions | 1.73 x 1.5 x 0.46 inches |
| Item Weight | 4.6 ounces |
| Batteries Required | 1 Lithium Polymer batteries required (included) |
Blackview R3 Pro Design and Display
The Blackview R3 Pro boasts a 1.69-inch full touchscreen display and a sleek, slimline design. The screen is protected by a protective film, including a QR code that leads to the Glory Fit app on the Google Play Store. The watch features a selective dial on the right side, dual charge pins at the rear, and relevant fitness monitors for accurate tracking.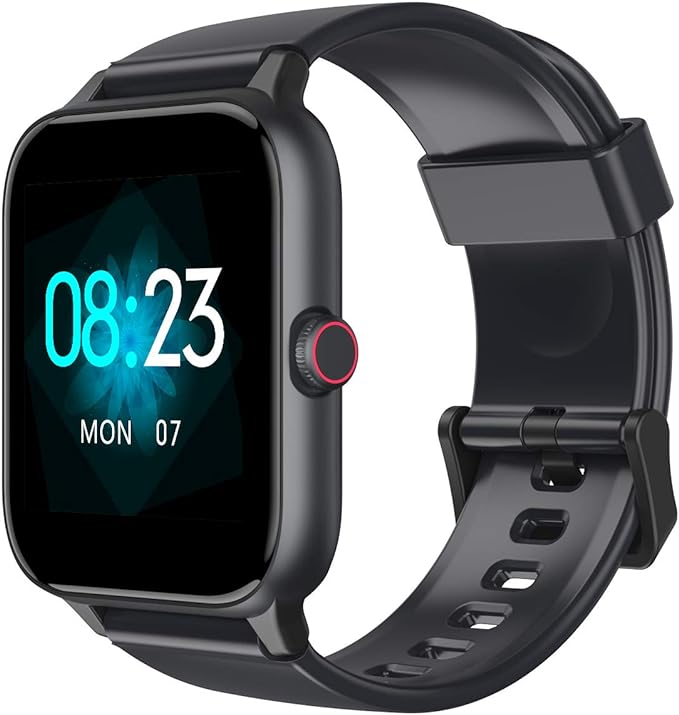 Blackview R3 Pro Functionality and Features
Navigating through the functions, the Blackview R3 Pro offers customised dials, blood oxygen (SpO2) monitor, body temperature measurements, heart rate monitor, sleep monitor, step counter, and 24 sports modes. The watch also provides access to daily weather forecasts, sedentary reminders, stopwatch and timer, alarm clock, music control, and the ability to take pictures using the watch. Notably, it offers a 'Do Not Disturb' mode and 'Find Your Phone' option for added convenience.
You Might Also Like:
Blackview R3 Pro Watch Faces and Display
The Blackview R3 boasts a variety of watch faces, offering users a multitude of choices. With five built-in watch faces, users can select their preferred style without needing to pair the smartwatch with a smartphone. The LCD display panel provides excellent visibility, even under sunlight, thanks to its four brightness levels.
Workout Modes and Health Monitoring
This smartwatch offers 12 workout or training modes, catering to different fitness preferences, including running, walking, yoga, and more. Notably, the heart rate monitoring and blood oxygen measurement capabilities are superior compared to many competitors in this price range. The device also incorporates features like breathing exercises, sleep time monitoring, and a step counter.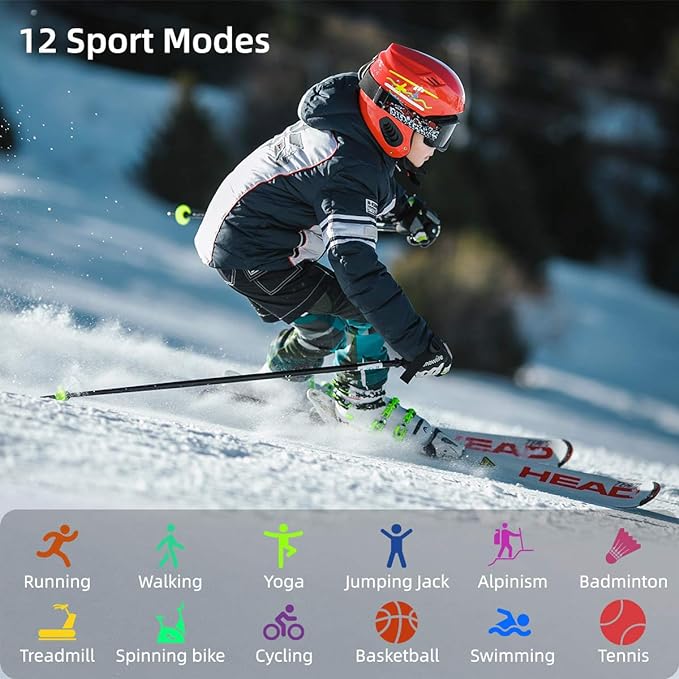 Notifications and Connectivity
Staying connected is effortless with the R3 Pro. It notifies you of calls, messages, and app notifications, ensuring you never miss an important update. The watch employs Bluetooth 5.0 technology for seamless connectivity with your smartphone, and the dedicated "GloryFit" app enhances its functionality.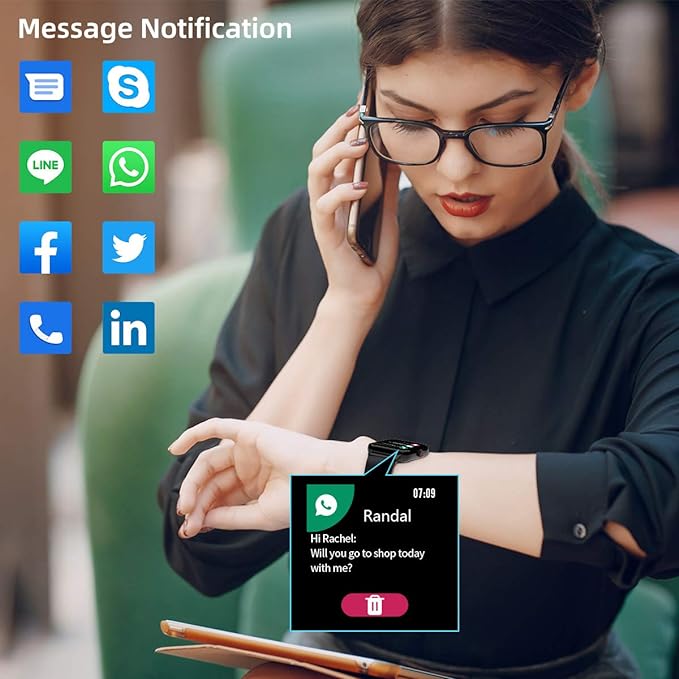 Blackview R3 Pro Battery Life and Performance
The R3 Pro is equipped with a 230 milliamp-hour battery that takes approximately 1.4 hours to fully charge. In typical usage, the battery can last just over a week, with an impressive 35+ days in standby mode. During testing, the accuracy of the fitness monitors, including step counters and heart rate monitors, stood out, showcasing the watch's reliability.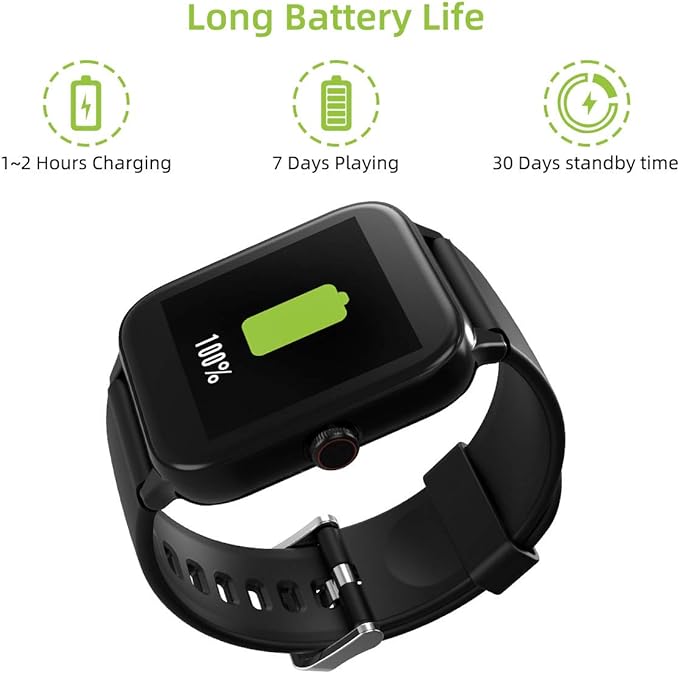 Blackview R3 Pro Water Resistance and Durability
The Blackview R3 Pro carries an IP68 waterproof rating, making it ideal for use during fitness training and in light showers. However, it's not suitable for diving or exposure to seawater. Users should exercise caution with hot water and saunas to avoid any potential damage.
Blackview R3 Pro Health Tracking
One of the standout features of the R3 Pro is its comprehensive health tracking capabilities. The smartwatch offers sleep tracking, water intake monitoring, step counting, and a range of exercise options. Additionally, it can monitor heart rate and blood oxygen levels, providing valuable health insights to users.
Blackview R3 Pro Connectivity
The R3 Pro smartwatch is compatible with both Android and iOS devices, allowing a broad user base to enjoy its features. It seamlessly connects to smartphones, enabling users to receive notifications and alerts directly on their wrists.
Blackview R3 Pro User Interface and Customization
The user interface is intuitive and provides easy navigation through various features. Users can choose from a variety of watch faces and customise the smartwatch to suit their style and preferences. The watch face market store adds an extra layer of customization, enabling users to personalise their smartwatch further.
Setting Up and Using the Blackview R3 Pro
To begin using the R3 Pro, users need to download the "Glory Fit" app on their smartphones. The app provides access to various features and allows seamless pairing with the smartwatch. Once connected, users can explore a range of functionalities, including heart rate monitoring, body temperature tracking, blood oxygen measurement, and notifications from compatible apps.
Blackview R3 Pro: Pros and Cons
Pros:
Accurate fitness tracking for various activities
Excellent battery life
IP68 waterproof rating
Wide compatibility with smartphones
Clear and vibrant display
Cons:
Does not provide swimming data tracking
Limited app ecosystem
FAQ's
Is Blackview Smart watch R3 waterproof?
Yes, the Blackview R3 Pro Smart Watch is designed to be waterproof with an IP68 rating. This means it can withstand immersion in water up to a certain depth and is also resistant to dust. However, it's important to note that while it's suitable for activities like swimming, the watch cannot track swimming data despite its waterproof capabilities. It's always advisable to follow the manufacturer's guidelines regarding the usage and limitations of the waterproof feature to ensure the longevity and proper functioning of the smartwatch.
How do I turn on my Blackview R3 Pro?
To turn on your Blackview R3 Pro, simply press and hold the side button until you see the animation on the screen. Once the animation appears, release the button and wait for the watch to power on. That's how you can turn on your Blackview R3 Pro.
Conclusion
In conclusion, the Blackview R3 Pro Smart Watch impresses with its affordability and rich set of features. Offering accurate fitness monitoring, a user-friendly interface, and a stylish design, this smartwatch provides excellent value for its price. The waterproof rating adds to its versatility, making it a viable option for various activities. Overall, the Blackview R3 Pro receives a solid 10 out of 10, especially considering its budget-friendly category. If you're in the market for a reliable and feature-packed smartwatch without breaking the bank, the Blackview R3 Pro is a strong contender.
For more information and to purchase the Blackview R3 Pro Smart Watch, you can follow this link. Please note that this review is affiliated, and we encourage you to explore and make informed decisions based on your preferences and needs. Stay tuned for more tech reviews in the coming days!
Closing Remarks
Thank you for joining us in this insightful review of the Blackview R3 Pro Smartwatch. If you enjoyed this review, please show your support by sharing this post and subscribing to our newsletter. If you have any questions or if there's a specific smartwatch you'd like us to review, feel free to comment below, and we'll be sure to respond. Stay tuned for more honest and detailed reviews!