Welcome to our comprehensive review of the Lige Smart Watch! In this in-depth exploration, we dive into every aspect of this wearable technology gem. From its unboxing experience and initial impressions to its design, functionality, and more, we leave no stone unturned. Whether you're a tech enthusiast, a fitness buff, or someone seeking a functional yet stylish accessory, join us as we dissect the Lige Smart Watch's features and offer insights that can guide your decision-making process. Let's embark on this journey to uncover what sets this smartwatch apart in the ever-evolving world of wearable devices.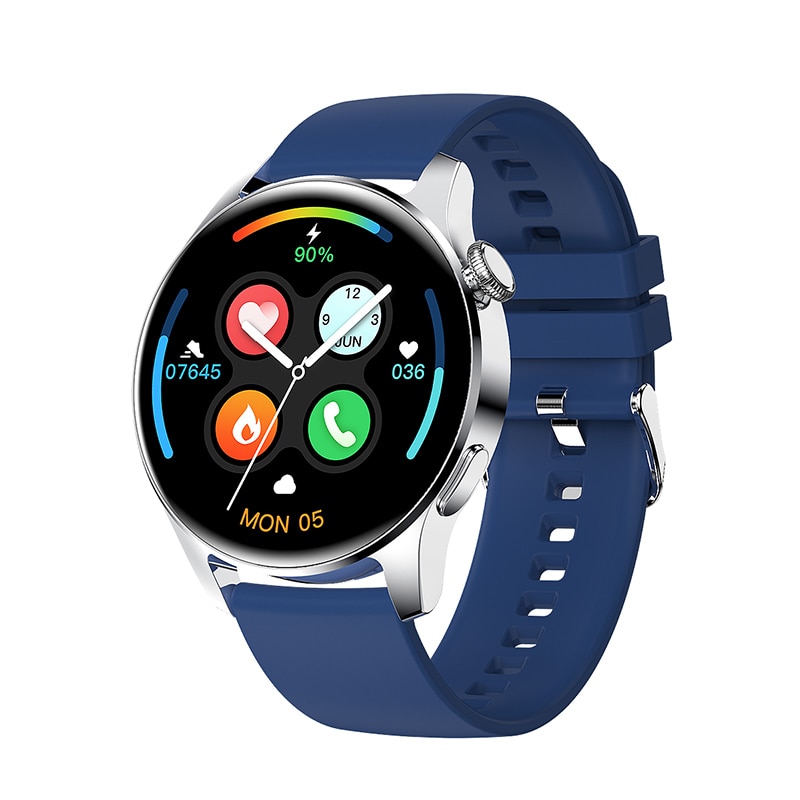 Unboxing and Initial Impressions
The LIGE Smart Watch is a noteworthy addition to the world of wearable technology. We managed to snag this watch on sale from Amazon for approximately $60, tax included. Let's kick things off by taking a closer look at what comes in the box and our initial impressions.
Save $10 with coupon (limited sizes/colours)
LIGE Smart Watch for Android iOS, Bluetooth Calls Voice Chat with Heart Rate/Sleep Monitor Fitness Tracker, 1.3″ Full Touch Screen IP67 Waterproof Stainless Steel Activity Tracker for Men
See Buying Options
1. Unveiling the Contents
Upon opening the box, we were greeted with a variety of items neatly arranged to enhance the unboxing experience. Alongside the smartwatch, the package included a cleaning kit and a thoughtful thank-you card. But what really stood out was the comprehensive manual that accompanied the watch. Unlike previous experiences, where deciphering a manual was a challenge, this one proved to be thorough and user-friendly.
2. The Watch Design
The LIGE Smart Watch boasts a sophisticated design that we couldn't help but admire. However, a minor regret surfaced regarding our choice of colour. Opting for the black band version, we couldn't help but wonder if the chrome or silver variant might have been a wiser choice, considering the potential for the black finish to wear off over time.
3. Charging Convenience
Before diving into exploring the watch, we needed to charge it. The charging process was straightforward: the watch charges magnetically by aligning the metal pins on the charging dock with the metal contacts on the back of the watch. This magnetic connection ensures proper alignment and prevents the watch from detaching accidentally. We were pleased to learn that this design choice aimed to enhance water resistance, an important consideration for a watch that might find itself in everyday situations like the shower or even a dip in the lake.
Lige Smart Watch Display and Functions
The main screen presents essential information at a glance. The battery status, step counter, and weather information are neatly displayed. The watch's Bluetooth was turned off during our unboxing, which is why the weather data wasn't synced. The customization options for the watch faces were limited to four at the moment, with potential for more through future updates.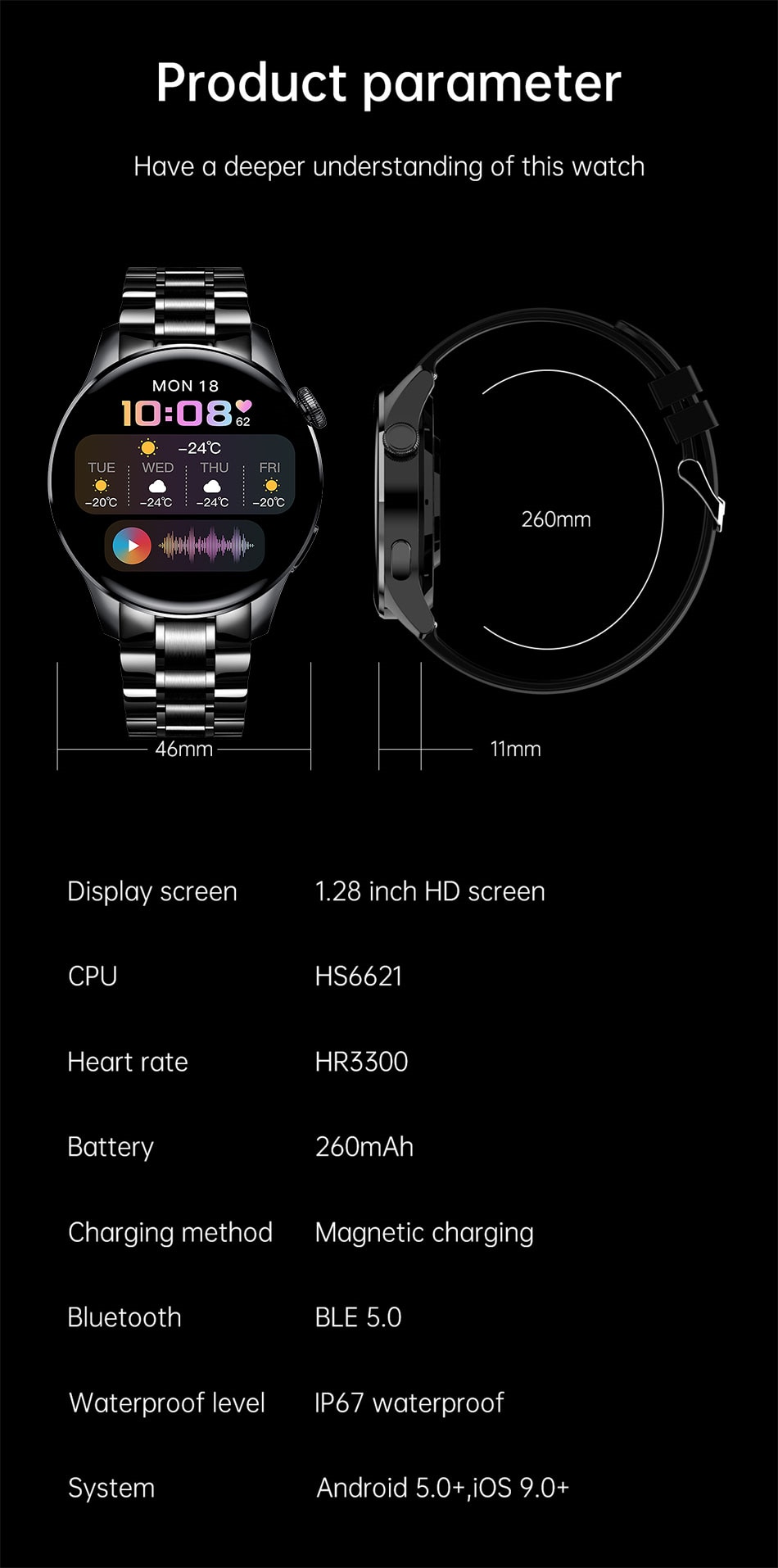 Lige Smart Watch Design and Accessories
The Lige Smart Watch boasts a design that is visually appealing and not dissimilar to other models previously reviewed by the Rarefleek team. Its aesthetics are reminiscent of some well-known brands in the smartwatch market. The package includes the watch itself, a USB Type-C charging cable, and an instruction manual.
Lige Smart Watch App Connection
To establish a connection with the watch's app, users are required to download a specific application. This is achieved by scanning a QR code, which redirects them to the app's download page on Apple's App Store. This step is pivotal in accessing the watch's full functionality.
Lige Smart Watch Features and Functionality
Watch Interface and Customization
Upon activation, the watch offers a range of watch face options for users to choose from. This feature draws parallels with the aesthetics of certain high-end watches, particularly resembling the iconic Apple Watch. However, unlike the Apple Watch, it seems that interaction with the watch faces might be limited to simple scrolling.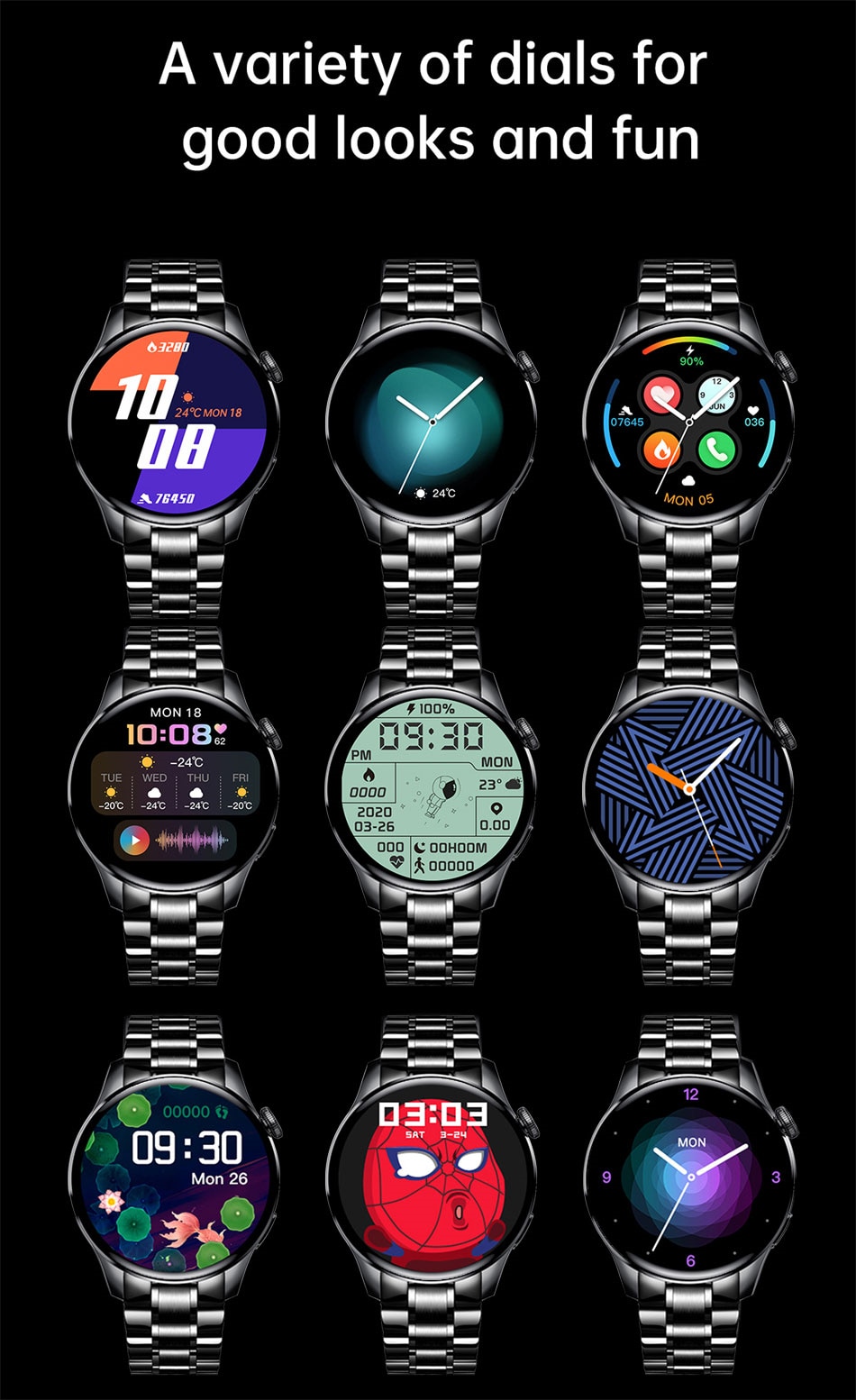 App Integration
The watch's dedicated app provides an array of features including exercise recording, step counting, running maps, and even the option to customise units of measurement. It can also be linked to Apple Health, enhancing its utility for health and fitness enthusiasts.
Health and Wellness Tracking
One notable aspect of the Lige Smart Watch is its health and wellness tracking capabilities. It can monitor various metrics such as heart rate, sleep patterns, and even stress levels. A unique feature is the alleged ability to measure oxygen levels, a crucial health indicator.
Accuracy Testing
The review involves putting the watch's accuracy to the test. The team checks the heart rate measurement against known values and even subjects an inanimate object—an intricate camera lens—to the watch's heart rate sensor. The results suggest satisfactory performance in this regard.
Additional Features
The watch includes an interesting array of extra features, such as the ability to locate a misplaced phone by triggering a ping from the watch. It also allows customization of the menu layout, providing users with a choice between a traditional list-style menu and an icon-based layout reminiscent of the Apple Watch.
User-Friendly Interface
Navigating the LIGE Smart Watch was intuitive, thanks to its well-thought-out button layout. The bottom button serves as the enter or wake-up button, while the top button functions as the back button.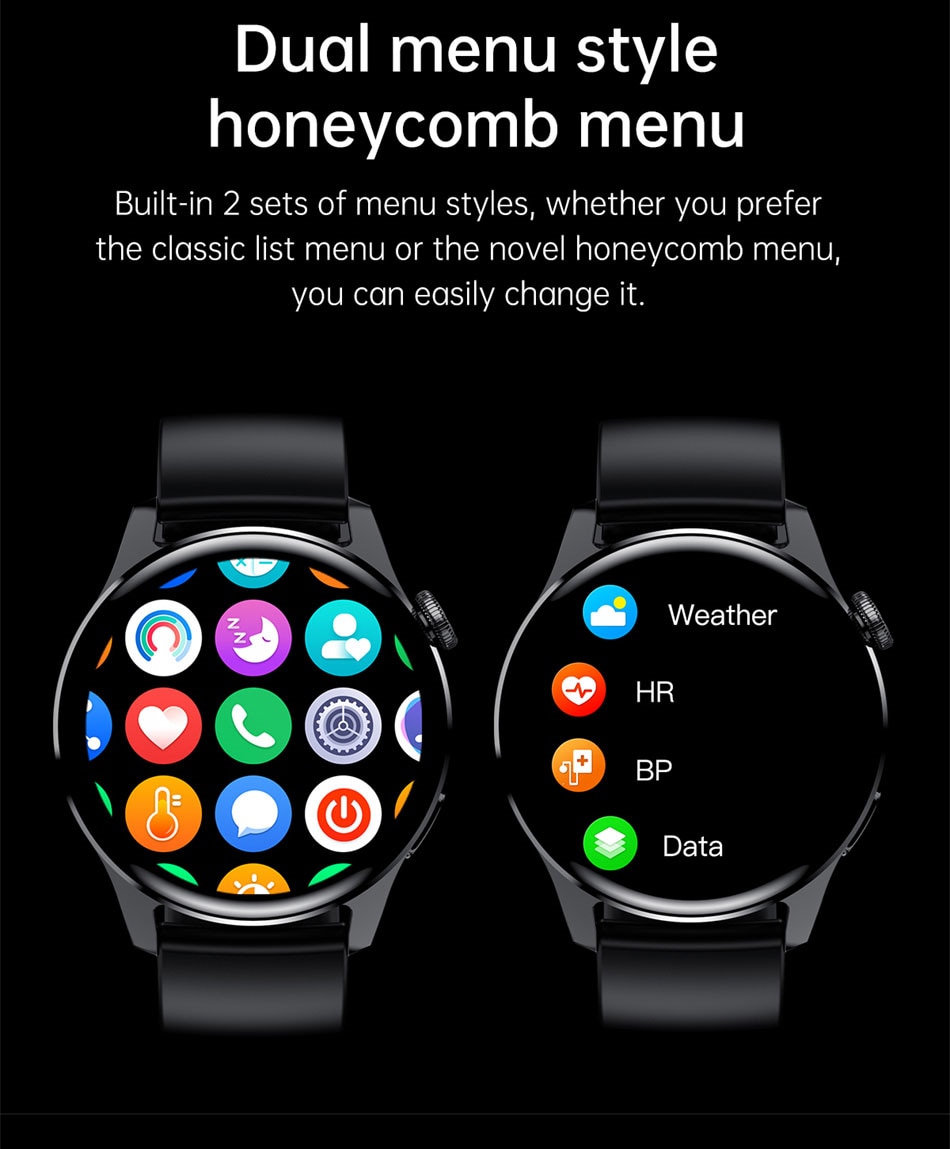 A Week of Usage and Observations
After a week of testing the LIGE Smart Watch, several observations caught our attention. We were particularly impressed with its accurate step counter and heart rate monitoring capabilities. However, a minor concern arose with the clasp of the watch band, which seemed prone to coming undone. We plan to reach out to the manufacturer to address this issue.
Messaging and App Integration
Interacting with messages on the watch was straightforward—scrolling up led us to the messaging centre. It's worth noting that while WhatsApp and email messages were accessible, messages from other platforms like Facebook Messenger weren't visible. This limitation may stem from the app's functionality or require updates in the future.
Lige Smart Watch Companion App
To fully tap into the potential of the LIGE Smart Watch, users are encouraged to download the "Da Fit" app. This app extends the watch's capabilities to your smartphone and offers features such as step tracking, heart rate monitoring, blood pressure, blood oxygen levels, and outdoor activity tracking. It's here that you can fine-tune settings and manage your profile.
Lige Smart Watch Camera Functionality
While the watch boasts an array of features, one area of disappointment is the camera functionality. The review details attempts to access and use the camera feature, but it appears that this aspect of the watch fell short of expectations.
Lige Smart Watch Pros & Cons
Lige Smart Watch Pros:
Affordable price at around $60.
Sophisticated and visually appealing design.
Comprehensive and user-friendly manual.
Convenient magnetic charging.
Robust health and wellness tracking.
Feature-rich app integration.
Potential for watch face customization.
Intuitive and user-friendly interface.
Accurate step counting and heart rate monitoring.
Lige Smart Watch Cons:
Limited color choices for potential wear.
Clasp prone to unfastening concerns.
Message limitations for certain platforms.
Disappointing camera functionality.
Limited initial watch face customization.
Unclear third-party app integration.
Dependence on companion app.
Speculated impact of color choice on durability.
Camera functionality falls short of expectations.
Conclusion and Final Thoughts
Summing up the review, the Lige Smart Watch offers a compelling package for its price point, approximately $60. Its design, health monitoring features, accuracy, and customization options make it an attractive contender in the smartwatch market. While not without its limitations, the watch proves to be a reliable and functional accessory for those seeking basic smartwatch capabilities without breaking the bank.
How to Get One
If you're interested in exploring the Lige Smart Watch further, you can check it out here. For more content and merchandise from Rarefleek, be sure to visit our YouTube channel and description section.
Thank you for joining us in this detailed review of the Lige Smart Watch. Remember to like, share, and stay tuned for more exciting reviews and adventures!
Save $10 with coupon (limited sizes/colours)
LIGE Smart Watch for Android iOS, Bluetooth Calls Voice Chat with Heart Rate/Sleep Monitor Fitness Tracker, 1.3″ Full Touch Screen IP67 Waterproof Stainless Steel Activity Tracker for Men
See Buying Options