Are you looking for a top-of-the-line running smartwatch that can help you take your training to the next level? If so, the Garmin Forerunner 265 might just be the perfect device for you. With its vibrant AMOLED display, advanced training metrics, and long battery life, this smartwatch is designed to help athletes better plan, prepare, and perform. But before you make a decision, it's important to know all the details. In this blog post, we'll provide a comprehensive review of the Garmin Forerunner 265, including its price, full specifications, and reviews from real users. So, whether you're a serious runner or just starting out, keep reading to learn more about this impressive device.
Garmin Forerunner 265 Overview
The Garmin Forerunner 265 is a GPS-running smartwatch designed to help athletes better plan, prepare, perform, and connect. It features optional always-on, full-color displays that are easy to read no matter the weather conditions and a responsive touchscreen that complements the traditional 5-button design. The Forerunner 265 includes innovative tools to help athletes push the limits, such as a morning report that provides an overview of last night's sleep and the day's training outlook, personalized daily suggested workouts that adapt after every run to match performance and recovery, and a training readiness score based on sleep quality, recovery, training load, and more. The watch also includes performance monitoring tools like VO2 max, performance condition, and training effect, and two adaptive training plan options for those training for their next race. It is designed to track overall well-being 24/7 with features like a wrist-based Pulse Ox sensor, Body Battery energy monitoring, advanced sleep monitoring, and stress tracking. The Forerunner 265 is available in two sizes and has a battery life of up to 20 hours in GPS mode and up to 13 days in smartwatch mode.
Garmin Forerunner 265 Specifications
         




Product

Forerunner 265
$ 449.99
Brand:
Garmin
Colors Available:
6
Display Size:
1.3-inch
Display Type:
AMOLED
Display Resolution:
416 x 416
Voice Assistant:
No
Watch Faces:
Customised Watch Faces
Connectivity
Bluetooth, ANT+, Wi-Fi
SpO2 Monitor:
Yes
Fitness Tracker:
Yes
Sleep Monitor:
Yes
Sports Mode:
90
Distance Tracker:
Yes
Calling
TEXT RESPONSE/REJECT PHONE CALL WITH TEXT (ANDROID ONLY)
GPS
Yes
Heart Rate Monitor
Yes
Battery Backup
Smartwatch mode: Up to 15 daysGPS-Only GNSS mode: Up to 24 hours
Box Accessories
Forerunner 265S GPS running watchUSB-C charging cableDocumentation
Water Resistance
5 ATM
OS Supported
Android and iOS
Compatible Devices
Smartphone, Tablet
Features
Music Storage and Control, Garmin Pay, GPS tracking, Gmail,
Weight
110 g
Warranty
1 year
🛒Buy Now
Garmin Forerunner 265 Features
The Garmin Forerunner 265 is packed with a range of features designed to help athletes and fitness enthusiasts track their progress and improve their performance. Some of its most notable features include GPS tracking, a heart rate monitor, smart notifications, activity tracking, and personalized coaching. With GPS tracking, users can accurately measure their distance, pace, and route during their workouts. The heart rate monitor provides real-time data on heart rate zones, helping users optimize their workouts for maximum results. Smart notifications allow users to stay connected to their phones without having to carry them during their workouts, and activity tracking provides data on steps taken, calories burned, and daily activity levels. The personalized coaching feature offers customized training plans based on the user's fitness level and goals. Additionally, the Forerunner 265 is water-resistant and offers up to 12 hours of battery life in GPS mode.
Clock Features:
Time/Date
GPS Time Sync
Automatic Daylight Saving Time
Alarm Clock
Timer
Stopwatch
Sunrise/Sunset Times
Health Monitoring:
Wrist-Based Heart Rate (Constant, Every Second)
Daily Resting Heart Rate
Abnormal Heart Rate Alerts
Respiration Rate (24×7)
Pulse Ox Blood Oxygen Saturation
Fitness Age
Body Battery Energy Monitor
All-Day Stress
Relaxation Reminders
Relaxation Breathing Timer
Sleep
Sleep Score and Insights
Hydration
Women's Health
Health Snapshot
Sensors:
GLONASS
GALILEO
Multi-Frequency Positioning
SATIQ Technology
Garmin Elevate Wrist Heart Rate Monitor
Barometric Altimeter
Compass
Gyroscope
Accelerometer
Thermometer
Ambient Light Sensor
Pulse Ox Blood Oxygen Saturation Monitor
Daily Smart Features:
Smart Notifications
Text Response/Reject Phone Call with Text (Android Only)
Calendar
Weather
Realtime Settings Sync with Garmin Connect Mobile
Battery Saver (Customizable Low Power Watch)
Controls Smartphone Music
Plays and Controls Watch Music
Music Storage
Find My Phone
Find My Watch
Smartphone Compatibility(iPhone and Android)
Stocks
Garmin Pay
Safety and Tracking Features:
LiveTrack
Spectator Messaging
Live Event Sharing
Incident Detection During Select Activities
Incident Detection Alert on Phone for Wearables
Assistance
Activity Tracking Features:
Step Counter
Move Bar (Displays on Device After a Period of Inactivity; Walk for a Couple of Minutes to Reset It)
Auto Goal (Learns Your Activity Level and Assigns a Daily Step Goal)
Calories Burned
Floors Climbed
Distance Traveled
Intensity Minutes
TrueUp
Move IQ
Garmin Connect Challenges App
Gym & Fitness Equipment:
Automatic Rep Counting
Cardio Workouts
Available Gym Activity Profiles
Strength Workouts
HIIT Workouts
Yoga Workouts
Pilates Workouts
On-Screen Workout Animations
On-Screen Workout Muscle Maps
Training, Planning and Analysis Features:
HR Alerts
Auto Max HR
Morning Report
HR Broadcast (Broadcasts HR Data Over ANT+™ to Paired Devices)
Respiration Rate (During Exercise)
GPS Speed and Distance
Customizable Data Pages
Customizable Activity Profiles
Auto Pause
Interval Training
Improved Interval (Includes Open Repeats, Intervals Data Page, Rest Screen and Auto Detection)
Advanced Workouts
Downloadable Training Plans
HRM Running Pace and Distance
Auto Lap
Manual Lap
Rest Timer
Configurable Lap Alerts
VO2 Max (Run)
VO2 Max (Trail Run)
Daily Suggested Workouts
Garmin Forerunner 265 Health Monitoring
The Garmin Forerunner 265 features several health monitoring tools, including a wrist-based heart rate monitor, sleep tracking, and stress tracking. The wrist-based heart rate monitor allows you to monitor your heart rate throughout the day and during your workouts, providing valuable insights into your fitness levels and helping you optimize your training.
Sleep tracking helps you monitor the quality and quantity of your sleep, which can have a significant impact on your overall health and well-being. By tracking your sleep patterns, you can identify areas for improvement and make changes to your lifestyle to get better quality sleep.
The stress tracking feature uses heart rate variability to determine your stress levels throughout the day. This can help you identify sources of stress and develop coping mechanisms to manage stress more effectively.
Overall, the health monitoring features of the Garmin Forerunner 265 can be valuable tools for anyone looking to improve their overall health and fitness.
Garmin Forerunner 265 Price and Availability
The Garmin Forerunner 265 Smart Watch is a popular choice among runners and fitness enthusiasts, thanks to its advanced features and accuracy. The price of the Forerunner 265 varies depending on the retailer and location. On average, the smartwatch is priced at around $449 to $499 USD. It is available for purchase from various online retailers, including Amazon, Best Buy, and Garmin's official website. Additionally, the smartwatch may also be available at select brick-and-mortar stores that carry fitness-related products.
Top Pick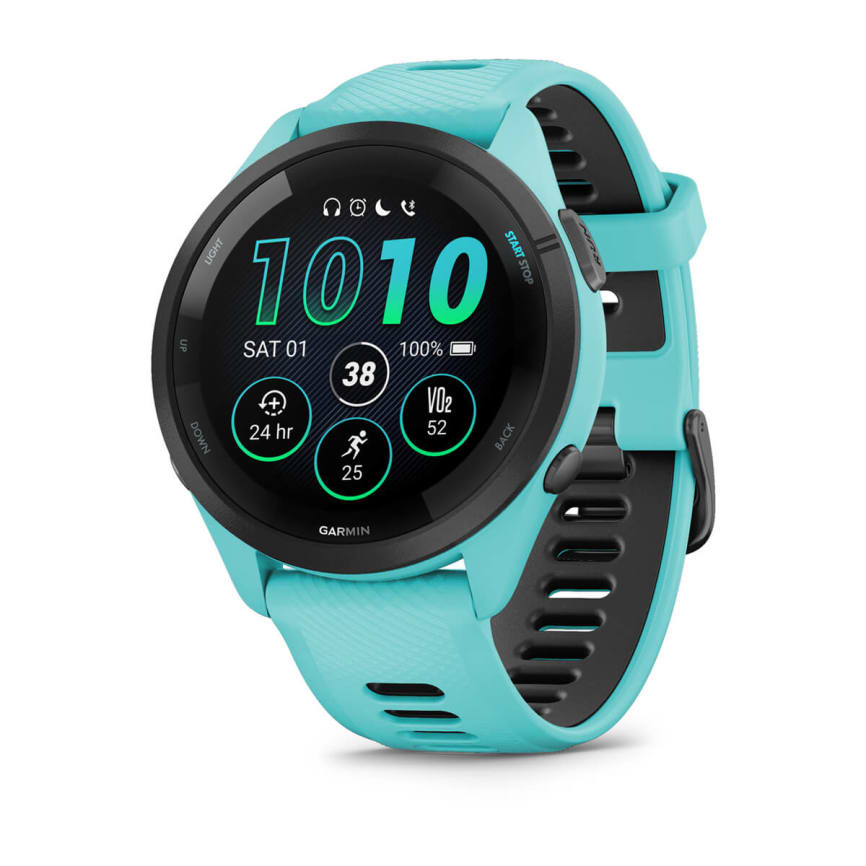 Corning Gorilla Glass 3, AMOLED Always-On Display, 5 ATM Water Resistance, GPS, Smart Notification
Buy on Amazon
Also Read: SMT 4 Smart Watch Review [2023 edition]
Garmin Forerunner 265 Design and Build Quality
The Garmin Forerunner 265 Smart Watch boasts a sleek and modern design that is both stylish and functional. The watch features a round face with a high-resolution display that is easy to read in any lighting condition. The band is made of durable materials and comes in a variety of colors to suit your style. The watch is also water-resistant, making it suitable for use during water-based activities. Overall, the Forerunner 265 has a solid build quality and is designed to withstand the rigors of everyday use.
Garmin Forerunner 265 Display
The Garmin Forerunner 265 Smart Watch features a 1.23-inch display with a resolution of 215 x 180 pixels. The display is a transflective memory-in-pixel (MIP) type that provides excellent visibility in bright sunlight. It also features a backlight that can be turned on in low-light conditions. The display is protected by durable chemically strengthened glass, which provides resistance against scratches and impacts. The watch also has customizable watch faces that can be changed to match your style or activity. Overall, the display of the Garmin Forerunner 265 is clear, sharp, and easy to read, making it perfect for outdoor activities.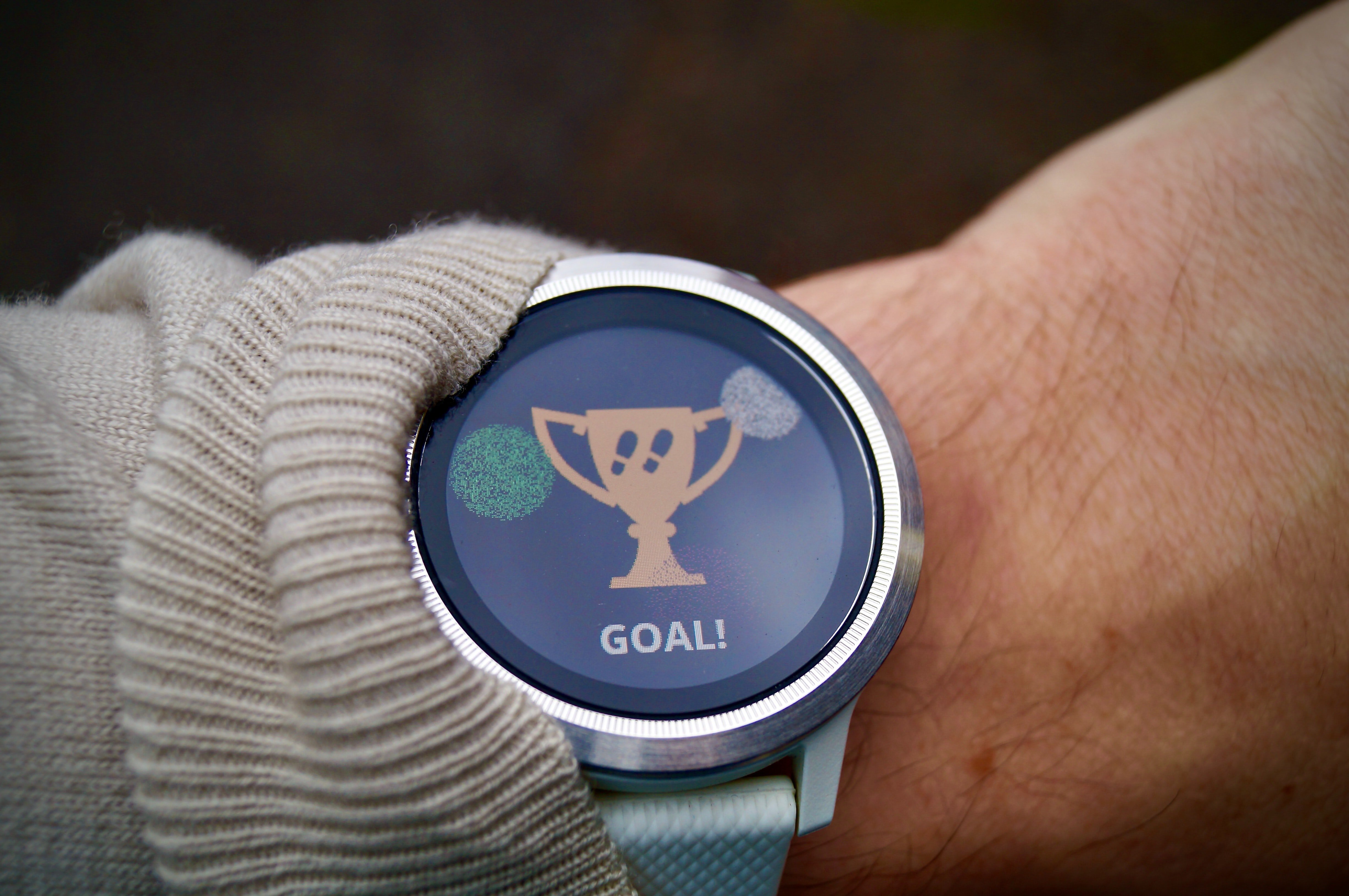 Garmin Forerunner 265 Battery
The Garmin Forerunner 265 Smart Watch has an impressive battery life, which can last up to 12 weeks in watch mode, and up to 12 hours in GPS mode with heart rate monitoring turned on. This means that users can use the watch for extended periods without worrying about charging it frequently. The watch also has a rechargeable lithium-ion battery, which can be charged using the included charging cable. The battery life of the Garmin Forerunner 265 is one of its standout features, making it an ideal choice for athletes and fitness enthusiasts who need a reliable device that can keep up with their active lifestyle.
Garmin Forerunner 265 Connectivity
The Garmin Forerunner 265 smartwatch comes equipped with a variety of connectivity options, making it easy to stay connected while on the go. It features Bluetooth Smart technology that allows you to pair the watch with your smartphone, providing access to various apps, notifications, and other features. The watch also includes Wi-Fi connectivity, which lets you upload your workouts and other data to the Garmin Connect online platform. Additionally, it features GPS and GLONASS satellite reception, which enables accurate tracking of your location, distance, and speed during your workouts. Overall, the Forerunner 265's connectivity options help you stay on top of your fitness goals and stay connected to the world around you.
Garmin Forerunner 265 Compatibility
The Garmin Forerunner 265 is compatible with both iOS and Android devices, allowing you to connect and sync your data with ease. The watch uses Bluetooth connectivity to pair with your smartphone, and the Garmin Connect mobile app allows you to track your progress and set goals. You can also receive notifications from your phone, such as text messages and incoming calls, on your watch, so you never miss an important message while you're on the move. Additionally, the watch is compatible with Garmin's online community, where you can connect with other users, join challenges, and share your progress.
Garmin Forerunner 265 Sensors
The Garmin Forerunner 265 is a highly capable smartwatch that comes equipped with a range of sensors to help you track and monitor your fitness activities. It features a GPS sensor that accurately tracks your outdoor activities such as running, cycling, and hiking. Additionally, it has an accelerometer that tracks your indoor workouts such as treadmill running and elliptical training. The watch also comes with a heart rate monitor that accurately measures your heart rate throughout the day, giving you valuable insights into your cardiovascular health. Other sensors on the watch include a compass, which is useful for navigation during outdoor activities, and a gyroscope, which measures the orientation of the watch. Together, these sensors make the Garmin Forerunner 265 a highly versatile smartwatch that can cater to the needs of fitness enthusiasts and casual users alike.
Garmin Forerunner 265 Pros and Cons
Garmin Forerunner 265 Pros:
Lightweight and comfortable to wear during workouts
Accurate GPS tracking for outdoor activities
Supports multiple sports modes
Has a built-in heart rate monitor
Can receive smartphone notifications
Water-resistant up to 50 meters
Long battery life
Garmin Forerunner 265 Cons:
No music storage or playback features
Lacks onboard storage for maps
Doesn't have a touchscreen display
Some users may find the interface to be somewhat complicated
Relatively expensive compared to other smartwatches in the market.
Garmin Forerunner 265 Release Date
The Garmin Forerunner 265 series was announced on March 2, 2023, but the exact release date has not been specified yet.
Garmin Forerunner 265 Smart Watch Worth Buying?
The Garmin Forerunner 265 smartwatch seems to offer a lot of features that would be attractive to runners and athletes. It has a bright and easy-to-read AMOLED display, advanced training metrics, and recovery insights to help you prepare for your next race. It also includes features to track your overall well-being, such as advanced sleep monitoring, stress tracking, and Body Battery energy monitoring.
Furthermore, the Forerunner 265 includes GPS and multi-band technology, making it an accurate and reliable option for outdoor training. Additionally, it is water-resistant and has a long battery life, which is useful for those who participate in endurance events or who prefer not to charge their watch frequently.
Overall, if you're a runner or athlete who is looking for a feature-packed smartwatch to track your workouts, monitor your overall health, and provide helpful insights, the Garmin Forerunner 265 may be worth considering.
Conclusion:
Based on the features and reviews, the Garmin Forerunner 265 smartwatch appears to be a good choice for those who are interested in tracking their fitness and outdoor activities. Its GPS capabilities, heart rate monitoring, and compatibility with a variety of apps make it a versatile tool for tracking workouts and staying on top of fitness goals. However, its price point may be a consideration for some consumers. Ultimately, whether or not the Garmin Forerunner 265 is worth buying will depend on an individual's personal needs and preferences.