Hey there, my tech-savvy friends! Today, we're diving into the world of budget-friendly smartwatches with the Z59 Ultra Smartwatch. If you've ever wanted the style and functionality of the Apple Watch without breaking the bank, you're in for a treat. This little gem comes packed with features, and we're going to explore them all in this review. So, grab your virtual coffee, and let's unbox, view, and test this impressive piece of tech!
Z59 Ultra Smartwatch Unboxing
Upon opening the box, the first thing you'll notice is the Z59 Ultra smartwatch, complete with a flexible wristband. You can easily swap out the wristband for another, making it a versatile fashion accessory. The watch supports wireless charging, which is super convenient. Just grab your power bank, and you're good to go.
The design, with its 2-inch display and sleek 240×286 resolution, is reminiscent of the Apple Watch. However, at a fraction of the price, it's certainly worth considering. The watch boasts a 220mAh battery and Bluetooth 5.2 compatibility, ensuring a seamless connection with both Android and iOS devices.
Save $10 with coupon (limited sizes/colours)
Z59 Ultra Smart Watch Series 8 || Smart Watch for Men and Women's || Watch Faces, Fast Charge, Stress, Sleep, Heart Rate Monitoring & Waterproof || (Orange)
See Buying Options
Z59 Ultra Smartwatch Price in India and Availability
The Z59 Ultra Smartwatch is priced at ₹1,999 in India. It is conveniently available for purchase both online through platforms like Amazon, Flipkart, and Meesho, and offline in physical markets. This availability ensures that you have multiple options to obtain this smartwatch based on your preferences and location.
Save $10 with coupon (limited sizes/colours)
Z59 Ultra Smart Watch Series 8 || Smart Watch for Men and Women's || Watch Faces, Fast Charge, Stress, Sleep, Heart Rate Monitoring & Waterproof || (Orange)
See Buying Options
Z59 Ultra Smartwatch Specifications
| | |
| --- | --- |
| Feature | Specification |
| Display | 2.02-inch TFT with 428*485 resolution |
| Battery Life | 220mAh (Also Varies based on usage patterns) |
| Charging | Wireless charging |
| Compatibility | RDFIT app |
| Special Feature | Calorie Tracker |
| Connectivity | Bluetooth |
| Health Monitoring | Heart Rate, Blood Pressure, Blood Glucose |
| Fitness Tracking | Pedometer, Multi-Sport Modes |
| Notifications | SMS, Social Media, Messaging Apps |
| Voice Assistant | AI Voice Assistant |
| Watch Faces | 9 customizable options |
| Always-On Display | Yes |
| Brightness Control | Adjustable for various lighting conditions |
Z59 Ultra Smartwatch Display
The Z59 Ultra Smartwatch features a 2.02-inch TFT display with a resolution of 428*485 pixels. It's a touchscreen display that remains always on and offers brightness control. This makes it easy to check the time and notifications at a glance, even in different lighting conditions, enhancing the overall user experience.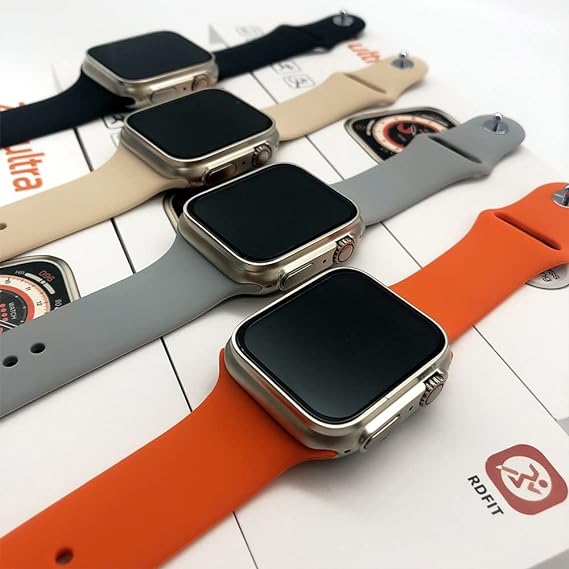 Z59 Ultra Smartwatch Battery
The Z59 Ultra Smartwatch is equipped with a 220mAh battery, which provides power to support its various functions and features, including fitness tracking, health monitoring, and smart capabilities.
You Might Also Like:
Z59 Ultra Smartwatch Features
The Z59 Ultra comes with three buttons and a rotating knob, which serves various functions. One interesting feature is the microphone, allowing you to make calls directly from your watch. The speaker is another standout feature, delivering clear sound for calls and more. Let's discuss remaining once:
1. Bluetooth Call Functionality
One of the standout features of this smartwatch is its Bluetooth call function. Once paired with your smartphone and the watch app, you can make and receive calls directly from your wrist. It's a handy feature for those moments when you can't reach your phone in time.
2. Message Notifications
The Z59 Ultra supports message notifications from various communication apps, including SMS, Facebook, Twitter, WhatsApp, and more. Stay connected and informed without needing to constantly check your phone.
3. Health and Fitness Tracking
This smartwatch is not just about style and convenience; it's a valuable fitness companion too. It includes a sleep tracker, sedentary reminder, and monitors your heart rate. The built-in pedometer keeps track of your steps and calories burned. For a more comprehensive health overview, the watch also offers blood pressure and blood glucose monitoring.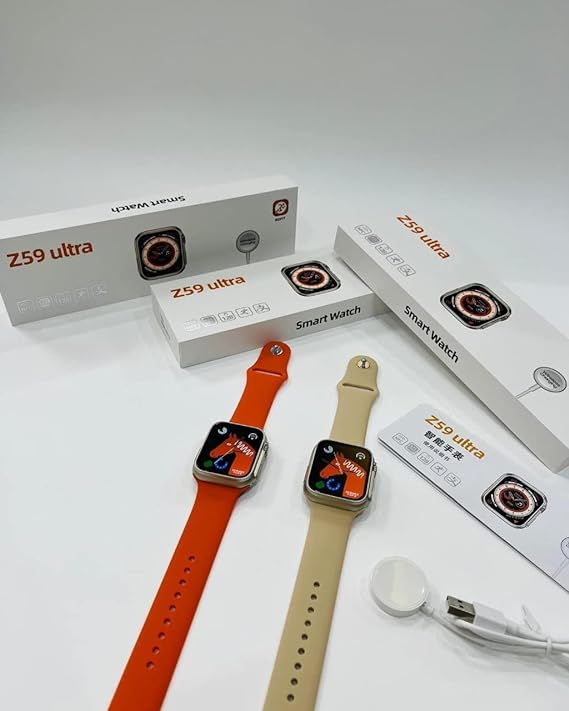 4. Voice Assistant
The Z59 Ultra comes with an AI voice assistant that can be a great help for setting alarms, checking the weather, or answering quick queries without having to reach for your phone.
5. Convenience Features
Always-on Display and Brightness Dimming for easy visibility.
Customizable watch faces and 9 menu styles.
6. Sports Enthusiast's Delight
Multiple sports modes to track various activities.
Multifunctional NFC for added convenience.
7. Impressive Display
2.02-inch TFT touch screen for easy navigation.
8. Communication Hub
Built-in speaker and microphone for Bluetooth calls.
9. Z59 Ultra Smartwatch App
Use the RDFIT app to access health and fitness data.
Z59 Ultra Smartwatch Setting Up and Connectivity
Pairing the watch with your smartphone is a breeze. Just download the RD Fit app, agree to the terms, and scan for the Z59 Ultra. Within seconds, your smartwatch will be connected and ready for action. You can also customise the watch faces using the app to match your style.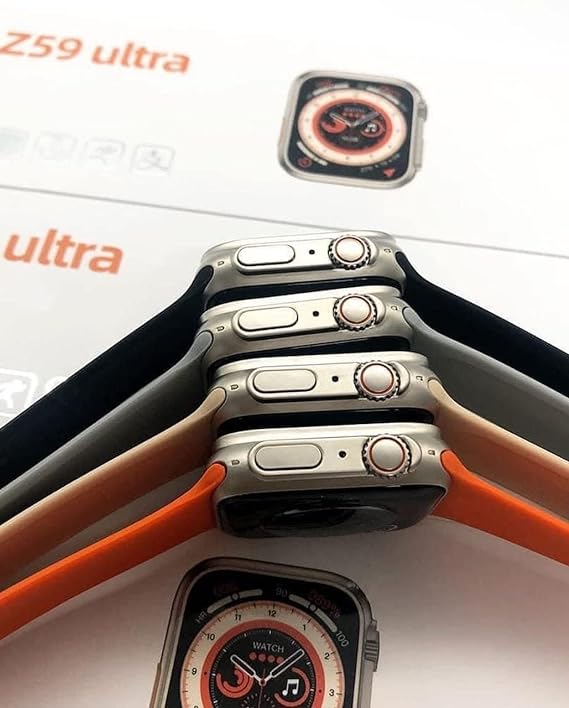 Z59 Ultra Smartwatch Pros & Cons
Pros:
Affordability: The Z59 Ultra is a budget-friendly smartwatch, making it accessible to a wide range of consumers.
Stylish Design: The watch closely resembles the design of high-end smartwatches like the Apple Watch, offering a sleek and modern look.
Flexible Wristband: The watch's flexible wristband is comfortable to wear and can be easily replaced with other bands available in the market.
Wireless Charging: The wireless charging feature is convenient and eliminates the need for cumbersome cables.
Compatibility: The watch is compatible with both Android and iOS devices, ensuring broad smartphone compatibility.
Multiple Exercise Modes: It offers a variety of exercise modes, including swimming and scuba diving, making it suitable for fitness enthusiasts.
Health Monitoring: The smartwatch provides real-time heart rate monitoring, blood oxygen level tracking, and even a thermometer, promoting health awareness.
Versatile Features: It includes a sleep tracker, blood pressure monitoring, and a convenient calculator, making it a multifunctional device.
NFC Support: The NFC support allows for contactless payments and can function as an access card.
Voice Assistant: You can choose between Amazon Alexa and Google Assistant, enhancing the watch's usability for controlling smart home devices and receiving voice assistance.
Cons:
Not an Apple Watch Clone: While it resembles the Apple Watch, the Z59 Ultra is not an exact clone, which may disappoint those seeking an identical look.
Quality: As a budget option, it may not offer the same level of build quality and materials as high-end smartwatches.
App Compatibility: Some users may find the accompanying app (RD Fit) to be less polished compared to those offered by major smartwatch brands.
Limited Third-Party App Support: It may not have an extensive library of third-party apps, limiting its functionality compared to more established smartwatches.
Battery Life: The battery capacity of 220mAh may not provide as long-lasting performance as some higher-priced competitors.
Display Resolution: While functional, the display resolution may not be as sharp as premium smartwatches.
Lack of Ecosystem Integration: It may not seamlessly integrate with the broader ecosystem of devices and services as some other smartwatches.
The Smart Side
The Z59 Ultra doesn't shy away from smart features either. It supports NFC, allowing you to make payments and use it as an access card. The watch also syncs with your smartphone to receive notifications for calls, messages, and more. The voice assistant, which you can choose from Amazon Alexa or Google Assistant, adds another layer of convenience. It even lets you control smart home devices, making your life easier.
Final Thoughts
While the Z59 Ultra is not an exact clone of the Apple Watch, it offers a compelling budget alternative. At just Rs 1999, it's hard to complain. The design is impressive, and it's packed with a wide range of features, from fitness tracking to health monitoring to smart functions. It's a great choice if you want an affordable, stylish, and functional smartwatch.
So, if you're looking to impress your friends with a cool gadget without emptying your wallet, the Z59 Ultra is definitely worth considering. Join our community, share this article with anyone who might be interested, and stay tuned for more exciting smartwatch reviews in the future. Thanks for reading, and have a fantastic day! Bye-bye!