This article delves into a comprehensive review of the K88H Smart Watch, a product gaining attention for its unique features and affordability. We'll explore its design, functionality, strengths, weaknesses, and provide insights to help potential buyers make an informed decision.
Unveiling the K88H Smart Watch
The K88H Smart Watch, produced by an undisclosed Chinese company, stands out in the realm of smartwatches for its mysterious origin. Many manufacturers claim to produce this watch, leading to a sense of intrigue and curiosity about its true maker.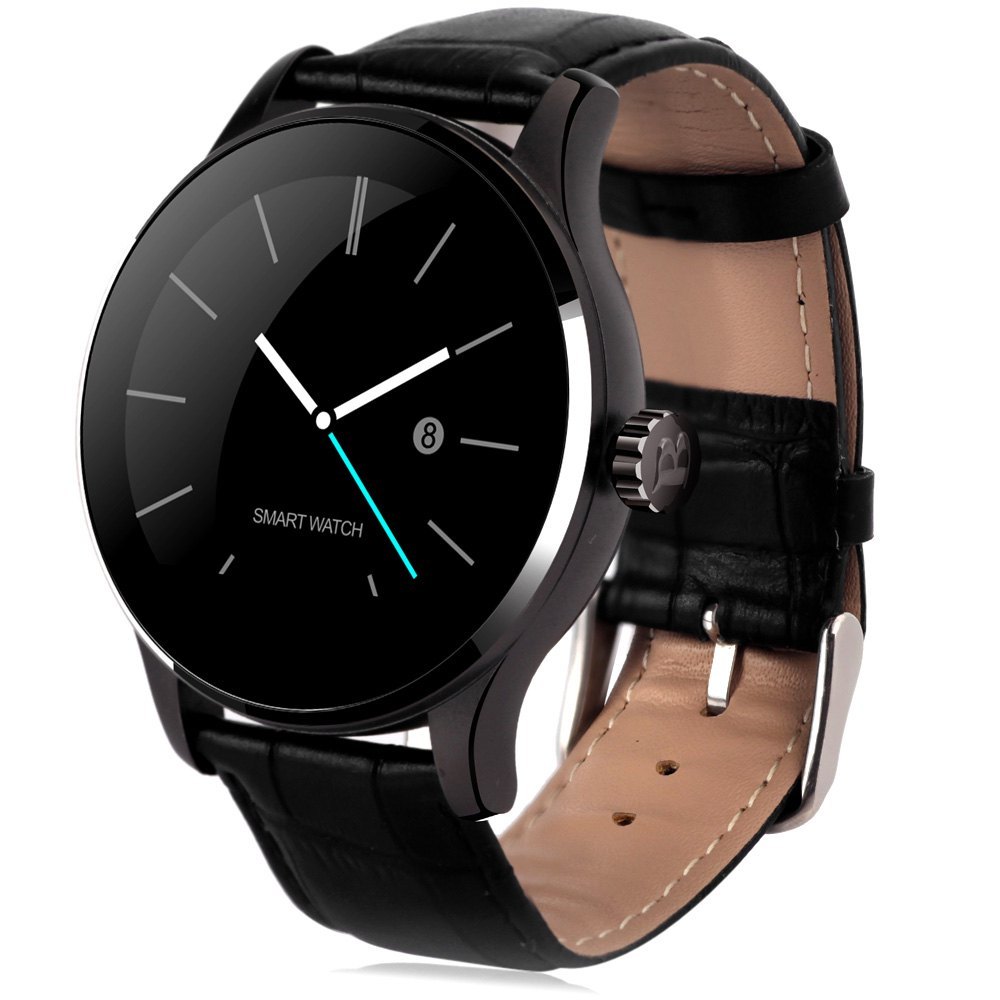 Save $10 with coupon (limited sizes/colours)
K88H Smart Watch 1.22 Inch IPS Round Screen Support Sport Heart Rate Monitor
See Buying Options
K88H Smart Watch Packaging and Style
The packaging of the K88H Smart Watch is eye-catching, featuring a textured, premium look. However, it lacks any specific branding, only labeling itself as a "Smart Watch." Despite this, the overall style of the watch is elegant, resembling a traditional wristwatch and disguising its smart capabilities.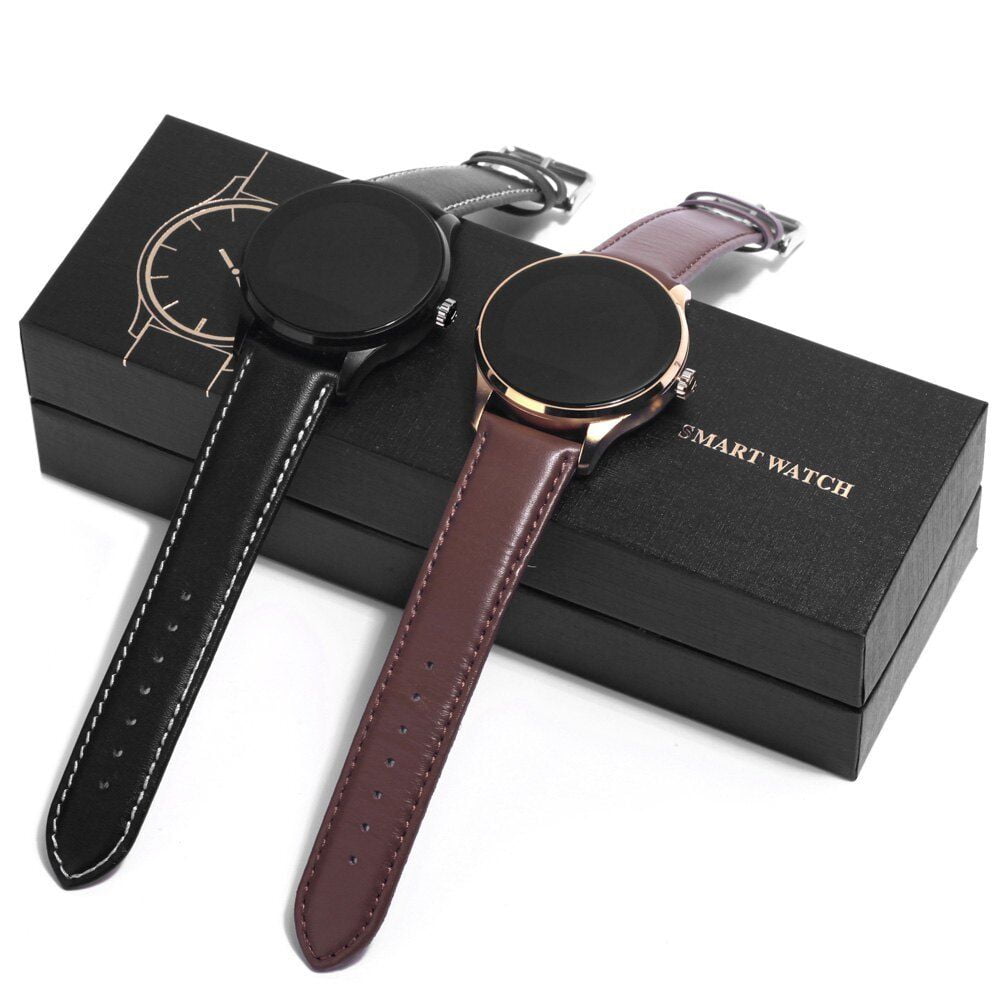 K88H Smart Watch Initial Impressions and Setup
Upon initial use, the K88h Smart Watch impresses with its sleek and stylish appearance. The device offers six different watch faces, providing users with customization options to suit their preferences. The quality and feel of the watch are noted to be satisfactory, though some minor screen calibration issues were observed.
You Might Also Like:
K88H Smart Watch Specifications
| | |
| --- | --- |
| Category | Specification |
| Product Name | K88H Smart Watch |
| Price | $42.00 |
| Brand | DIGGRO |
| Color | Silver |
| Screen Size | 1.3 Inches |
| Special Features | Heart Rate Monitor, Alarm Clock, Calorie Tracker |
| Shape | Round |
| Target Audience | Unisex Teen, Unisex Adult |
| Compatible Devices | Smartphone |
| Band Material Type | Leather |
| Operating System | iOS, Android |
| Heart Rate Sensor | Yes |
| Bluetooth Phone | Yes |
| Sync Function | Yes |
| Sleep Monitor | Yes |
| Siri Function | Yes (For iPhone) |
| Model | K88H |
| Case Material | Zinc Alloy |
| Wristband Material | Stainless Steel |
| Screen Type | IPS Round Screen |
| Net Weight | 80g/0.18lbs |
| CPU | MTK2502C-ARM7 |
| Display Size | 1.22 Inch |
| Resolution | 240 x 204 |
| Bluetooth Version | 4.0 |
| Battery Capacity | 300mAh Li-battery |
| Speaker | 1511 ACC Speaker |
| Microphone | Yes |
| G-sensor | Yes |
| Memory Combinations | 128MB+64MB |
| Waterproof | IP54 (Not for shower and swimming) |
| Package Size | 9.3 x 6.6 x 5 cm/3.66 x 2.6 x 1.97 inches |
| Package Weight | 210g/0.46lbs |
| Note | See Product Description for specific notes |
| Package Included | Smart Watch, Charging Cable, User Manual |
| Customer Rating | 3.4 out of 5 stars |
K88H Smart Watch Design, and Variants 
Examining the design, the K88H Smart Watch impresses with its resemblance to a conventional watch. The display, albeit with minor imperfections like glue residue, is bright and vibrant. The watch's comfort is notable, as it remains lightweight and easy to wear throughout the day.
The K88h Smart Watch is available in several variants, featuring different strap colors like black and brown. The model discussed in this review is the stainless steel version, renowned for its aesthetic appeal and design quality.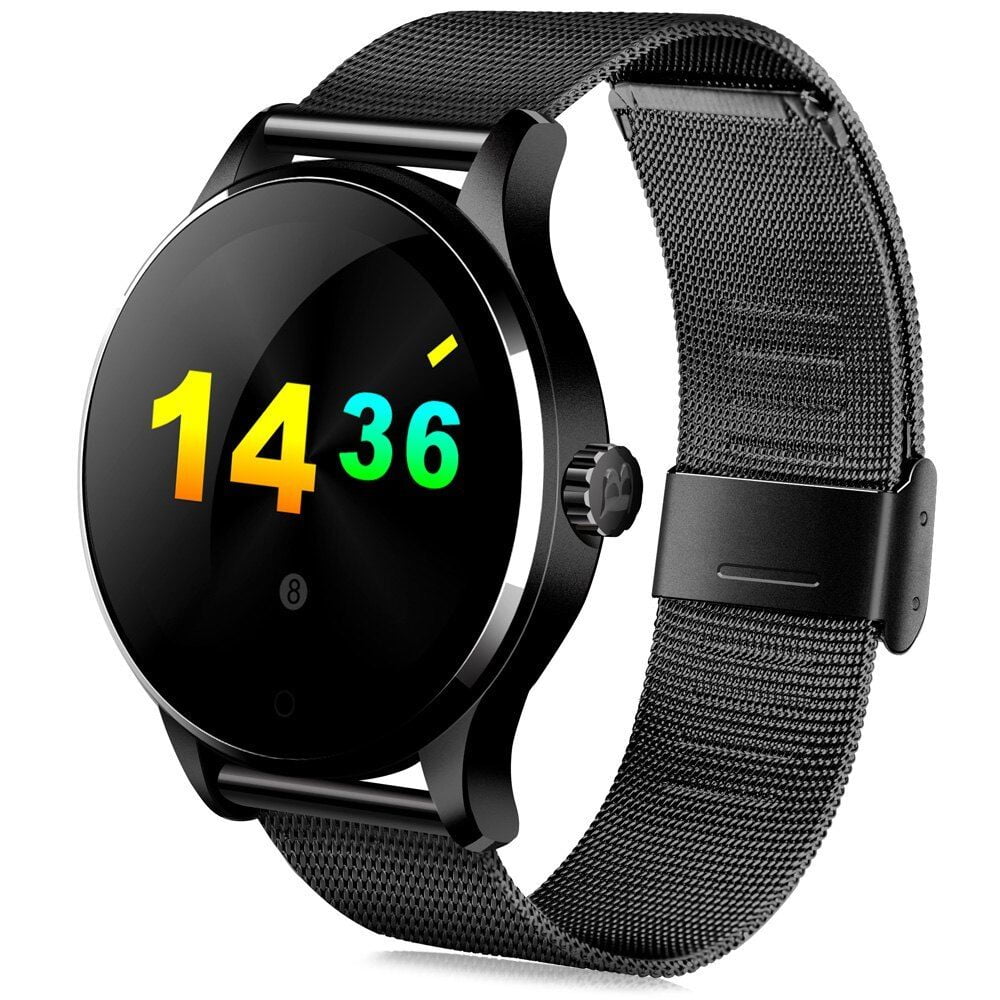 K88H Smart Watch User Interface and Display
The round display with simple, intuitive icons offers a pleasing user experience. The watch supports various watch faces, allowing users to customize according to their preference. The screen is responsive and displays vivid colors, enhancing the overall aesthetic.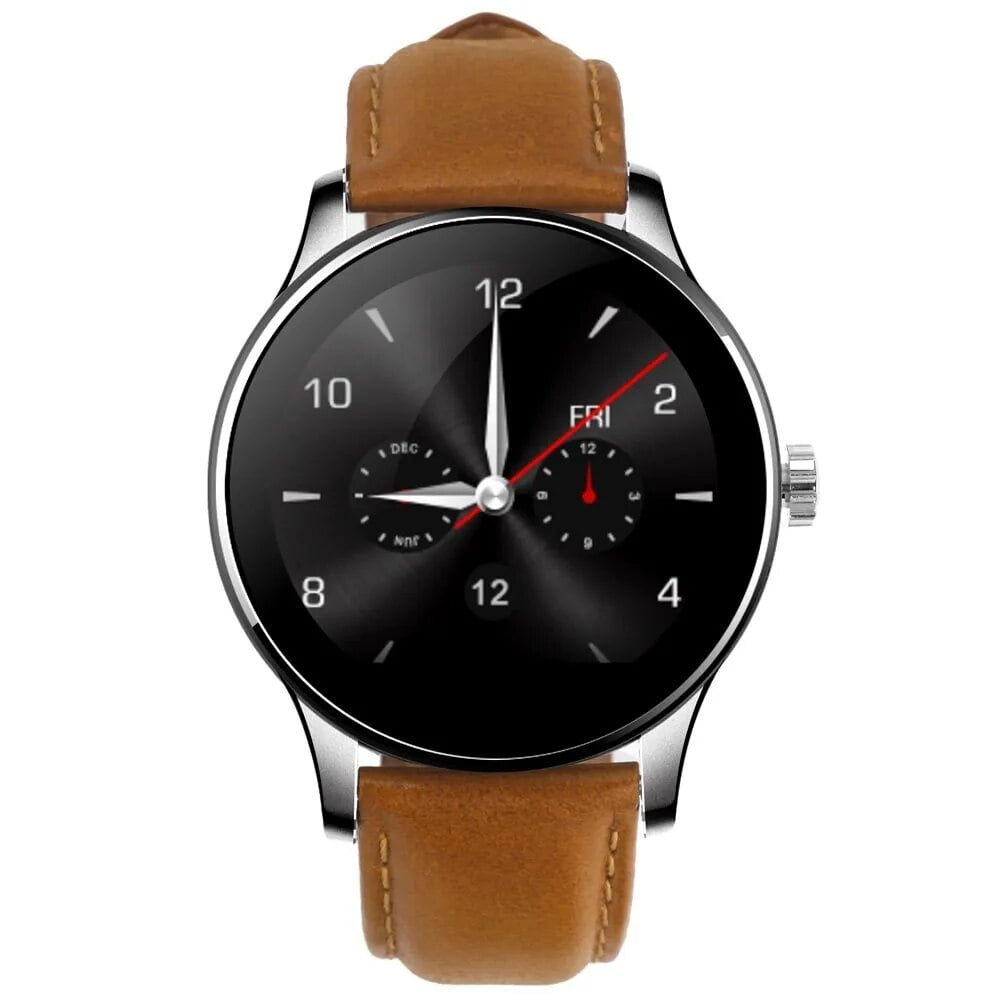 K88H Smart Watch Features and Functionality
The K88h Smart Watch is equipped with various features, including Bluetooth calling, message notifications, heart rate monitoring, a pedometer, sedentary reminders, and sleep monitoring. However, the accuracy of some of these features, such as the heart rate monitor and pedometer, is found to be less than optimal.
While the K88H Smart Watch promises an array of functionalities, it falls short in delivering them effectively. The heart rate sensor works on-demand, lacking continuous tracking for a comprehensive overview. Moreover, the watch inundated users with frequent notifications and redirects all phone sounds to the watch, causing inconvenience.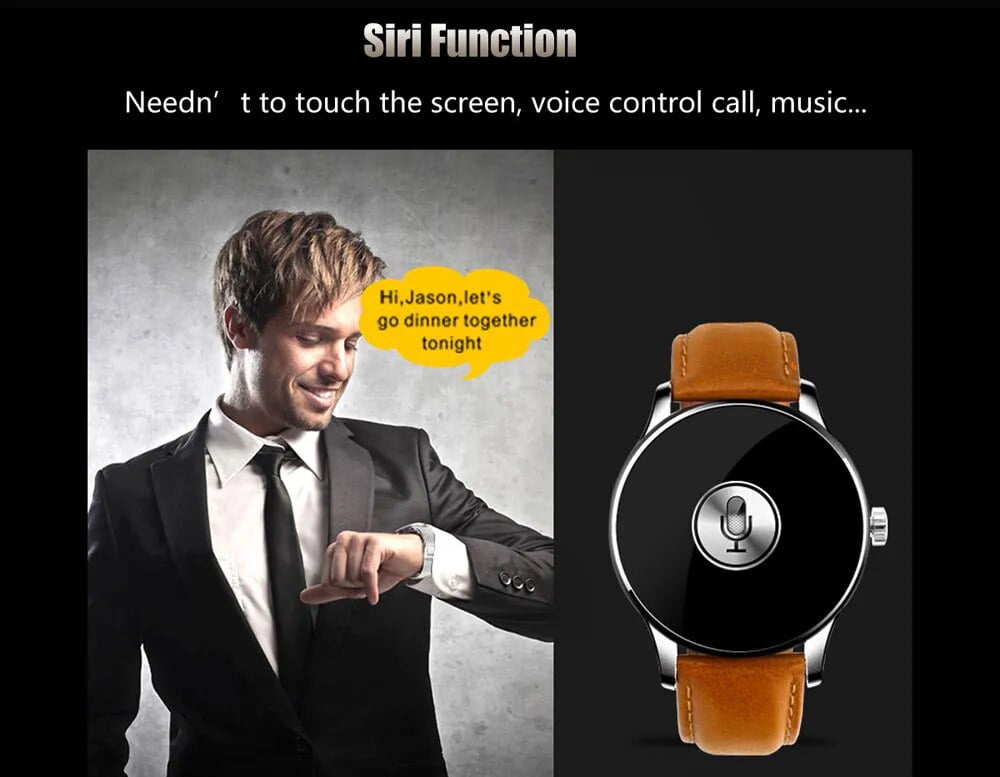 K88H Smart Watch Pricing and Value
One of the K88H Smart Watch's strong points is its affordability, priced at approximately 30 to 40 pounds. Despite its limitations, this price point makes it an attractive option for those seeking an entry-level smartwatch without a substantial financial investment.
K88H Smart Watch User Interface and Interaction
Navigating the menu of the K88h Smart Watch is intuitive, and users can access features like call logs, notifications, a phone book, a dialer, a calendar, alarms, a stopwatch, a heart rate monitor, voice memos, and a calculator. The watch also offers customization options such as changing themes.
K88H Smart Watch Android Software
The K88H Smart Watch is compatible with Android smartphones, allowing seamless integration and enhanced functionality through its associated app, "Fundo Wear." The "Fundo Wear" app is the primary software that facilitates communication and interaction between the smartwatch and an Android device. Here's an overview of the K88H Smart Watch Android software and its features:
Fundo Wear App:
The "Fundo Wear" app is designed to be compatible with Android devices, providing a platform for connecting and managing the K88H Smart Watch. The app can be downloaded and installed from the Google Play Store on your Android smartphone.
K88H Smart Watch Pedometer
Users found the pedometer on the K88H Smart Watch to be easy to use. The step count is displayed clearly on the watch's screen, allowing users to track their progress throughout the day. Additionally, the watch stores historical step data, enabling users to monitor their daily, weekly, or monthly activity levels.
The accuracy of a pedometer is paramount to its functionality. The K88H Smart Watch pedometer utilizes advanced sensors to detect motion and count steps accurately. Users can expect a high degree of precision, allowing them to rely on the pedometer's data for their fitness goals.
K88H Smart Watch Pros and Cons
Pros
Stylish and aesthetically pleasing design, particularly the stainless steel model.
Multiple watch faces for customization.
Intuitive user interface.
Various features including Bluetooth calling and message notifications.
Cons
Minor screen calibration issues.
Inaccuracies in certain features like heart rate monitoring and pedometer.
Limited iOS compatibility.
Conclusion and Final Thoughts
In conclusion, the K88H Smart Watch is a visually appealing and budget-friendly smartwatch that emulates the aesthetics of traditional watches. However, its functionality falls short of expectations, struggling to balance its ambitious feature set. Potential buyers should weigh the price against the limitations and consider their preferences before making a purchasing decision.
FAQs
What is the price of K88H smart watch in India?
The starting price of the K88H Smartwatch in India is ₹4,799.