Hey there, my friends! Today, we're diving into the world of watch bands for the Garmin Fenix 7 Series. I recently stumbled upon some fantastic third-party straps that I can't wait to share with you. Let's get right into it and discuss the different options available.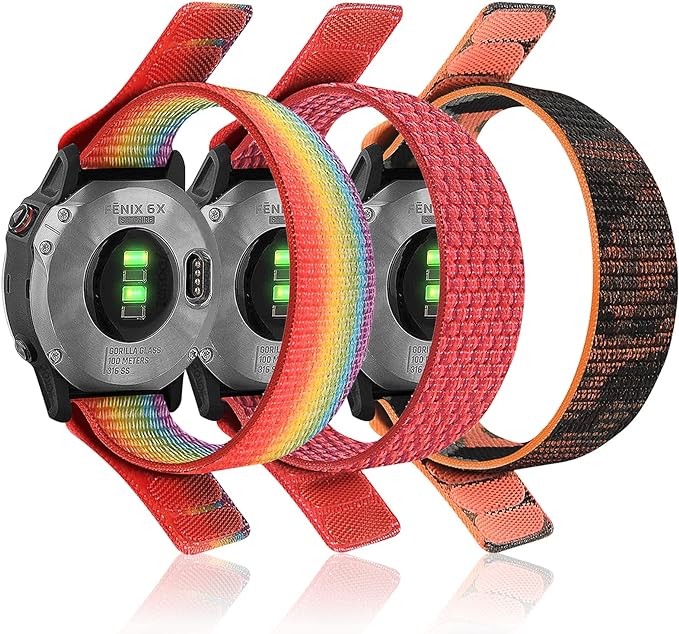 Original Garmin Fenix 7 Watch Band
First off, let's talk about the original Garmin Fenix 7 band. It weighs 24 grams and features a convenient quick-release mechanism, making it a breeze to swap out for a new look. After about five months of use, you might notice some wear on the front, but it's still a reliable choice.
Garmin Fenix 7 Watch Band : https://s.click.aliexpress.com/e/_DFrWauT
Third-Party Daily Driver Straps
Now, let's shift our focus to third-party daily driver straps. We have a variety to explore, starting with the lightweight nylon velcro strap. This featherlight strap weighs only 6 grams and is incredibly easy to adjust. It significantly reduces the overall weight of the watch, coming in at a total of 57 grams. It's a superb choice for those seeking a comfortable and lightweight option.
Nylon Strap: 
Next up, we have a range of TPU and rubber straps in different colors and styles. These straps are slightly trickier to attach due to varying patterns, so choose wisely. They weigh 23 grams and are ideal for a more athletic or outdoorsy look. My personal favorite among these TPU straps is the Navy dark blue one with a shiny finish that adds a touch of style.
TPU Straps: 
You Might Also Like:
Stylish and Specialized Garmin Fenix 7 Bands
For those looking to make a statement with their watch band, there's the NATO strap. It's a bit heavy at 26 grams due to its metal components, but it exudes a cool and unique style. However, it may not be the best fit for smaller wrists.
The leather strap is another excellent choice, weighing in at 23 grams. It becomes more comfortable with wear but might initially feel a bit stiff. It's easy to attach and detach thanks to the quick-fit feature, but be mindful of any odors that may come from cheaper leather options.
Leather Strap: https://amzn.to/3sgUyAc
Formal Garmin Fenix 7 Bands
If you're after a more formal look, there are some options to consider. The stainless steel strap is quite heavy at 130 grams, but it gives off a cool and formal vibe. You may need pin removers to adjust the chain size, and be cautious about pin breakage. While the quality isn't the highest, it's still a reasonable choice.
The Milanese steel strap is lighter at 49 grams but feels somewhat delicate. It utilizes a converter for quick-release bands, which is handy but raises questions about its durability. The added length may not be suitable for those with smaller wrists.
Stainless steel strap: https://amzn.to/47hUrTS
Lighter Titanium strap: https://amzn.to/40yxCsw
Choosing the Perfect Garmin Fenix 7 Band for You
In conclusion, there's no shortage of options when it comes to watch bands for the Garmin Fenix 7 Series. Whether you're in search of a lightweight, formal, or casual strap, there's something out there for everyone. Personally, I'm loving the Navy blue TPU strap for its stylish appearance, but you might have a different preference based on your needs.
Ultimately, my new favorite daily driver is the lightweight nylon strap for its exceptional comfort. The choice is yours, depending on your style and activities.
If you have any questions about these third-party straps or want to show some love for the channel, feel free to leave a comment, like, subscribe, and hit that bell button. Your support means the world to me!
Thanks for tuning in, and until next time, stay stylish with your Garmin Fenix 7 band!!